Roger Federer Eager To Get Back In Action With A New Racquet
Published 09/28/2020, 4:12 PM EDT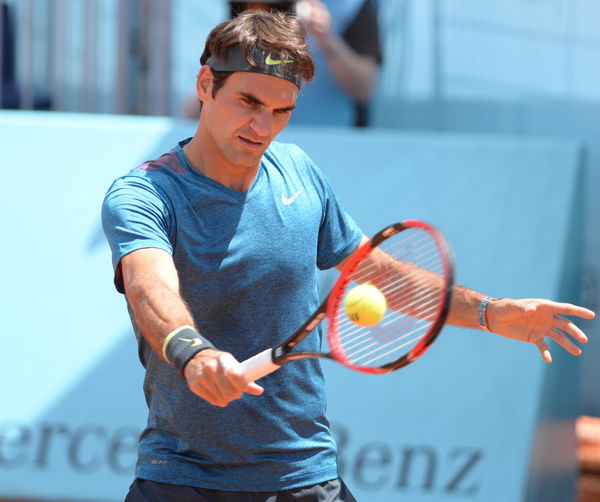 Roger Federer is enjoying some off-court treats. The Swiss maestro is out of action for almost the entire 2020 session. The 39-year-old from Switzerland is on his recovery period following the operation in his knees. Federer is aiming to make his comeback in 2021 and now has a new reason to speed up the recovery process.
The winner of 20 Grand Slam titles. Roger Federer got hold of a new Wilson racquet at his residence. Unpacking the beauty, Federer delivered a masterclass unboxing video just like his masterclass performance in the tennis circuit.
"It's exciting. Got a new racquet. Here we go. So this is my new racquet inspired from 1983 the Pro Staff 6.0 and my RF 97 it's like a blend. If we look at the details we see the vintage silver and grey lines, we see the signature here and we got the carbon fiber at the very top of course", he was seen giving out the specification.
ADVERTISEMENT
Article continues below this ad
The former world number 1 has come a long way in the tennis world. Idolizing some of the greatest tennis players Federer took his spot among the greatest as he progressed through the years.
"Playing with the Pro Staff reminds me of my heroes Stefan Edburg and Pete Sampras. They played with it, I played with it when I was young now I can't wait to play with it myself the new evolution RF 97 here we go."
ADVERTISEMENT
Article continues below this ad
Roger Federer misses action due to injury in the Australian Open
Roger Federer was last seen in action in the Australian Open 2020 back in January. Locking horns with Novak Djokovic in the semi-finals, he bowed out of the tournament losing to the Serbian on straight sets.
ADVERTISEMENT
Article continues below this ad
Playing the semi-final with a discomfort, excess strain caused him to be sidelined for the rest of the season. He underwent a successful operation and is currently undergoing recovery.
The injury caused him to withdraw from the US Open 2020 as well as the French Open 2020. With the new racquet on tow, Federer will be looking forward to making his comeback. Hopefully, he can claim a few more Grand Slam and go down as one of the greatest ever to grace the court.