"Black Sheep of ATP": Stefanos Tsitsipas Reveals the Unexpected Side of Nick Kyrgios
Published 01/28/2021, 2:36 AM EST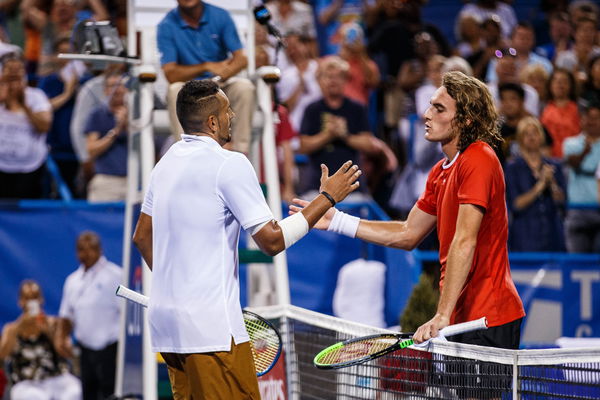 ---
---
Aussie talent Nick Kyrgios has always been considered a difficult player on the tennis tour. While he has outspokenly denied his interest in the sport, his friend from Greek thinks otherwise. Recently, in an interview, World No. 6 Stefanos Tsitsipas revealed the mindset of the Australian player.
ADVERTISEMENT
Article continues below this ad
In 2019, the duo debuted as doubles partners in the Washington Open. And after losing in the round of 16, Tsitsipas saw a side of the Aussie he hadn't expected.
"When he came off the court he was so disappointed, so frustrated and I was in shock. I didn't think he would react that way," the Greek revealed.
ADVERTISEMENT
Article continues below this ad
The 2019 ATP Finals winner also understood that Nick Kyrgios also doesn't like to lose. It comes as a surprise for all as World No.47 has had a reputation for tanking matches.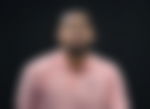 Tsitsipas added, "He is very hyperactive. Hates to lose. Trust me. He just hates to lose. I didn't expect it myself."
Moving forward, the 22-year-old explained why the Aussie talent is so important. Unarguably, Nick has the potential to beat every great player on the tour today.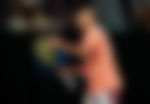 Nick Kyrgios is the 'black sheep of ATP', says Stefanos Tsitsipas
Kyrgios might be unconventional, but the 25-year-old Australian has built his own niche set of fans. Behind his several misconducts, he has also been a genuine entertainer. Tsitsipas expressed his thoughts on that.
"Nick, he is the black sheep of the ATP. He likes to do unpredictable stuff. He likes attention, let's not refute that. And that's totally normal. There is nothing wrong with that," Greece's No. 1 said.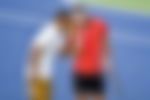 Even after being competitors of the sport, the Greek and the Australian have a good friendship off the court. But the one thing that Tsitsipas doesn't understand about the Aussie is his 1 am calls.
"I wouldn't say we share a very close friendship, but he does FaceTime me from time to time, at complete random times. Sometimes 1 am. I don't get it," said Stefanos.
In conclusion, the 2-time Grand Slam semifinalist stated that Nick is really fun to watch. However, he also added that disrespecting the game is not cool.
ADVERTISEMENT
Article continues below this ad
They both are presently in quarantine for the Australian Open 2021, starting from February 8. Before that, Stefanos will lead Team Greece in the ATP Cup 2021; meanwhile, Nick has withdrawn his participation.
If the Aussie was to play, the pair would've confronted each other on the ground stage. Nonetheless, Team Greece will battle against Alex de Minaur of Team Australia for the top place in Group B.
Will they continue to be friends or will their hot-headed personalities will clash in the future?
ADVERTISEMENT
Article continues below this ad