"I Was Very Close": Novak Djokovic Reveals the Turning Point of His Loss Against Daniil Medvedev at US Open 2021 Finals
Published 09/12/2021, 11:58 PM EDT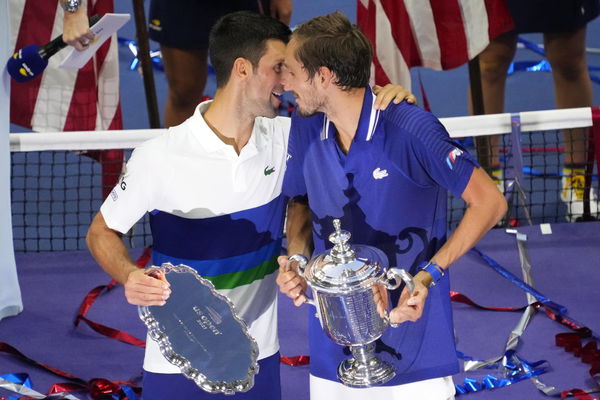 ---
---
Prior to the US Open 2021 Finals, even the hardcore Novak Djokovic haters couldn't have imagined Daniil Medvedev beating him in straight sets. It's true that the Russian maestro had lost just one set en route to the finals, handling bagels to two of his opponents. But winning a grand slam final 6-4, 6-4, 6-4 against the Serbian king was something different.
ADVERTISEMENT
Article continues below this ad
Since the very beginning of the night at Flushing Meadows, the control was in the Russian's hands. He had a solid game plan, and he stuck to it. Even with three times the double faults as many as Djoker made (3), the Minister strangled the former with his serve. But what else went wrong for the 3x US Open champion and right for the newly crowned king of NY?
ADVERTISEMENT
Article continues below this ad
Novak Djokovic gave the match analysis
On the court, Novak Djokovic cried, broke his racket, hit himself on the legs, yelled, and frowned. In the post-game media conference, the runner-up somehow recollected himself but still looked clearly disappointed. 
When an interviewer asked him about Daniil's service game, the author of Serve to Win expressed, "He was hitting his spots really well. He came out very determined on the court. You could feel that he was just at the highest of his abilities in every shot. He had a lot of clarity in what he needs to do tactically and he has executed it perfectly."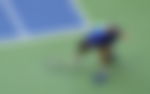 The Russian hit 10 more aces than Djokovic and that was pretty much expected. So naturally, he had great service games, recording 81% wins on the first serve. However, the distinguishing factor became Daniil's second serves, where he won 76% of the points as opposed to Novak's abysmal 44%. 
The crucial turning point in the match
In the second game of the second set, Novak had three breakpoints to enjoy an early break and shift the momentum as he always does. But a crazy comeback from Daniil pushing longer rallies snatched everything away from the Serb, even his mental edge. 
In Novak's own admission, drawing a parallel with his FO 2021 game, "My feeling on the court was not as good as the one I had in Paris. It's just the energy I felt, slow. There was a turning point at the beginning of the second set, there were some breakpoints in the opening games of Medvedev in the second set, some 0-40. Just one shot here and there, I was very close, but who knows the trajectory of the match if you make a break in the second early, with crowd support… probably I would feel different…"
Well, Djoker certainly had a celebrity crowd support in Bradley Cooper and others.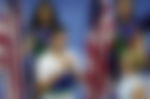 How did Daniil Medvedev pull this upset?
Daniil Medvedev, who won the title on his wedding anniversary, clearly channeled his inner Rafael Nadal when he took on Djoker at Arthur Ashe. The Russian was quick and unforgiving on a tired 34-YO (from his five-setter against Alexander Zverev). He lost just two points on his first serve in the opening set and pushed Djokovic to play more volleys. Also, his angles on the deep returns were sharp and fast enough to force a lack of balance for Djoker.
ADVERTISEMENT
Article continues below this ad
As Novak himself added, "I was just below par with my game. It's just my legs were not there. I was trying, I did my best, but I made a lot of unforced errors. I didn't have, any, no serve. So if you're playing someone like Medvedev who hits his spots so well and just aces and gets a lot of free points on his first serve, you're constantly feeling pressure in your service games."
The 20x Slam Champion never really came back in the match. His returns did not look like they were coming from his racket, and the unforced errors on long rallies did the remaining damage. That change of t-shirt in the final set could also save just one break for him. 
ADVERTISEMENT
Article continues below this ad
So what's your assessment, are the wounds from the Olympics loss and now a US Open stunner going to heal anytime soon? Help us with your opinion in the comments below.
Watch this story – Novak Djokovic and Others' Emotional Moments from Olympics History