Former US Open champion Gabriela Sabatini praised tennis phenom Coco Gauff's prowess on the tennis court. As a 15-year-old, she twice made it into the second week of a Grand Slam tournament, while she was debuting in the tournament.
Sabatini is amazed to see the mindset of the 16-year-old Gauff, who fearlessly tackles the toughest players in the sport. Sabatini was recently asked her about favorites from the present women's game. While she adores Ashleigh Barty and Bianca Andreescu, Coco seems to be above the Grand Slam champions on her list.
Coco Gauff's fan
Gabriela Sabatini on her disposition  
"I really enjoy watching tennis today. There are so many new players. There are some of them that I really like, like Ashleigh Barty. I really like the way she plays. Coco Gauff is amazing also. The temperament that she has, the mentality that she has. Andreescu also, I really like her personality on the court," Gabriela Sabatini said.
Even before turning 16, Coco had a singles title under her belt. It was attained after defeating Jelena Ostapenko in the Linz Open final. Incidentally, Gauff was a lucky loser at the tournament.
It seems Coco Gauff has pleased many former players of the sport. Not too long ago, a 56-year-old doubles specialist, Gigi Fernandez shared her desire to play doubles tennis with Coco. Since she didn't want to sound 'obvious', she chose Gauff over Serena Williams, on the WTA Tour.
Read More – 17-time Grand Slam Champion Picks Coco Gauff Over Serena Williams As a Doubles Partner
"
The depth of the level of tennis is fantastic" – Sabatini
The Argentine, Gabriela Sabatini, further talked about the evolution in the women's game, and she's obliged to see the advancement in the sport. "I think we have a lot of options today and it's nice to see that, you're seeing a lot of new players. I see a lot of Americans, new players. Last time I saw the U.S. Open I saw so many girls that I never saw before."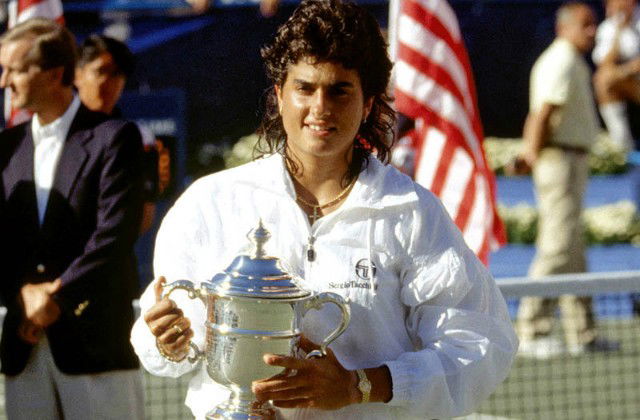 "This is great for tennis, to have so many new players because the generations are changing. I think it's a nice refreshment. I just like to watch these days a lot of women's tennis. The depth of the level of tennis is fantastic."
Sabatini won US Open in the year 1990, and the very year next she reached the final at Wimbledon. She hung her racquet in the year 1996, after 11 years of service to the WTA Tour.