WATCH – When Serena Williams Made an Emotional Return To Indian Wells
Published 05/16/2020, 3:32 PM EDT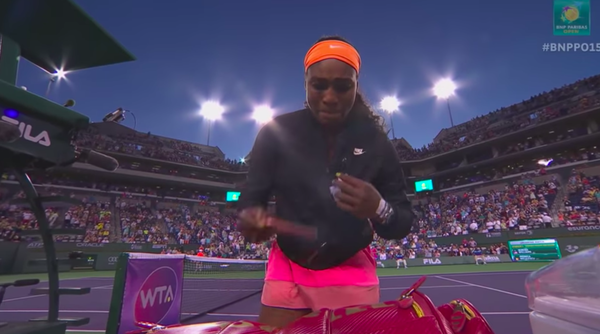 ---
---
World Number nine Serena Williams tends to become emotional on the big stages of tennis after playing her matches. But she has never really broken down on the tennis court, right before her match is about to start. It was Indian Wells 2015 that saw some rare scenes in tennis, wherein Serena broke down on the court before striking the first ball.
ADVERTISEMENT
Article continues below this ad
It was her first match at BNP Paribas Open after ending her 14-year-long boycott at the Californian tournament. The American was trying her best to hold back her tears while entering the court, but after failing to control them, tears rolled down her cheek.
The entire stadium was scintillating with 'Welcome Back Serena!' hoardings, and the standing ovation continued for several minutes. Eventually, the welcoming gestures from the audience made her emotional. 
ADVERTISEMENT
Article continues below this ad
Her 7-5, 7-5 victory over the Romanian Monica Niculescu once again broke the Indian Wells ice.
"At that moment everything had just – I just felt so good to be out there. I felt like I made the right decision and I knew I wanted to do it. I knew I really wanted to do it. But up until that moment, I didn't really know if it was the right thing for me to do. I feel like that's when I felt it was the right thing," Williams later said.
"I feel I've already won this tournament and I don't feel I have to hold up the trophy. I've never felt that way before."
Serena Williams' Indian Wells abandonment
Behind all the emotions gushing through her that day, it has a sour story associated with it. During the 2001 edition of the tournament,  Venus Williams withdrew four minutes before the seminal match against her younger sister Serena Williams due to knee injury.
It led to the cancelation of their semifinal match and that disappointed the audience. The next day, when Serena boarded to play the final match against Kim Clijsters, the Williams family was booed by the American crowd in Palm Springs.
ADVERTISEMENT
Article continues below this ad
That episode was recorded to be one of the ugliest moments in Serena and Venus' career, and hence they decided to boycott the event.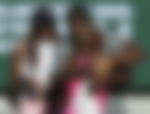 Read More – Why Did Serena Williams And Venus Williams Boycott Indian Wells Tournament in 2001?
ADVERTISEMENT
Article continues below this ad
For several years, Serena and Venus were stubborn about their boycott and were reluctant to make their return to Indian Wells. In 2009, the tournament had become a mandatory stop on the WTA Tour despite that neither of them showed up. However, in 2015, Serenachanged her mind and concluded her boycott, and Venus did the same in 2016.