Tennis Player Tested Positive Charged With Violation Of Quarantine Rules – He Issues Statement
Published 03/27/2020, 12:46 PM EDT

Follow Us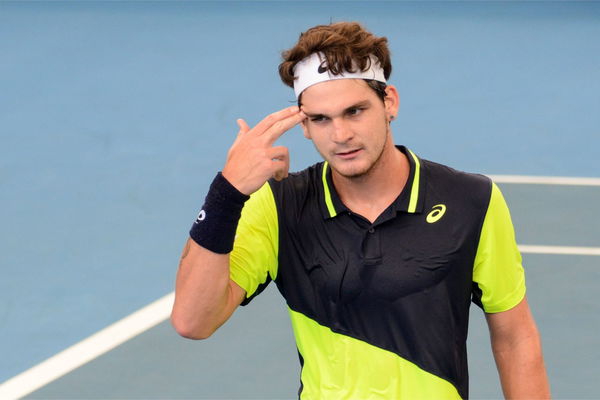 Thiago Wild was the first tennis player in the world to be infected by the deadly Coronavirus. However, the Brazilian tennis player might find himself in troubled waters after some disturbing allegations against him.
America's Favorite Video Today
As reported by Globoesporte, Wild is being investigated by the Civil Police of Parana for breaking the Quarantine rules. An investigation was opened against the young tennis star on Thursday. There were complaints against him that said he had left his home in Marechal Candido Rondon while awaiting his test results.
The Civil Police has received complaints that he was on the streets and even went to the Academy before he released the video confirming his affliction. In the video, Wild had clarified that he would be completely isolating himself.
ADVERTISEMENT
Article continues below this ad
Know More – Tokyo Olympics News Gives Tennis A Reason To Rejoice
Statement issued by security agencies on tennis player Thiago Wild
Thiago can be framed under Article 268 of the penal code. This means that the athlete might face imprisonment from one month to one year.
The statement issued by the security agencies reads as follows –
"First of all, I would like to clarify that, since yesterday, when we received the first complaints that the athlete Thiago Wild could somehow have disregarded norms of social isolation, we started investigating the fact. Today we were officiated by the Public Ministry and the Local Judiciary, also requesting a thorough investigation of this event. It all started from a video published by the athlete himself in which he reports showing some symptoms and that, with the confirmation of the Covid-19 infection, he would then be in isolation. Thus, several complaints came to us that, prior to this video, the athlete was seen passing through locations in the city, so the introduction of this procedure to ascertain whether any criminal type attributable to the athlete occurred."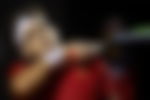 Statement issued by Thiago Wild in his defence
Wild looked pretty startled with the allegations. He has released a pretty length statement that reads as follows –
"I, Thiago Seyboth Wild, come through this note, to clarify some facts that have become the target of lies, which has generated much greater proportions of unemployed people, who did not even have any knowledge of reality, who published numerous audios on WhatsApp and on networks social.
First, when in the first video I posted about my situation, when I mentioned that I have led a "normal life", I wanted to demonstrate that my daily life is like that of any other person in a quarantined situation, taking due care and not exposing anyone to risk, differently from what they understood.
My life, as an athlete, has daily training routines, summing up: waking up, feeding, training and getting back to eating and training again until the moment to rest and start all over again the next day, a fact that for me, it is a normal situation and only interrupts through tournaments and holidays.
So, when I had the slightest symptom that could characterize contagion by COVID-19, I promptly isolated myself at home and waited for medical advice, this still in Rio de Janeiro, on 15/03/2020.
On 03/17/2020, no longer having the fever that I had (37.5 °, when the normal is between 36.5 to 37 °), in a joint decision with my trainer and the private doctor who attends me in Rio de Janeiro, I chose to treat myself with my family members, ALWAYS TAKING ALL THE NECESSARY CARE.
Being in my hometown, I had no contact with anyone else, I just needed to go to the registry office, where all the necessary care was taken, such as using alcohol gel and NO PHYSICAL CONTACT WITH ANYONE.
My day-to-day routines then became that of someone who has a normal life in his day-to-day life (without training), because people who are unaware of the reality, do not know how difficult the daily life of an athlete is. high yield.
Physical training and a daily 15-minute run on the street are not prohibited when proper care is taken, and even indicated, so that mental health is in a position to make the situation stand. IN NO OF THESE TRAININGS HAVE I CONTACTED WITH OTHER PEOPLE.
STILL THE BOARD TRAINING WAS ALWAYS PERFORMED IN ISOLATED WAY, THERE IS NO CONTACT WITH ANY OTHER PERSON.
In this way, NOTHING OF THAT EVERYTHING THAT HAS BEEN SAID BY CERTAIN OPPORTUNIST PEOPLE ON PLANTATION EXPRESSES REALITY. I HAVE NEVER DONE ANY PARTY OR BEEN IN PHARMACY AS DISCLOSED IN AUDIO FAKE. THEREFORE ALSO, THE AFFIRMATION THAT I HAVE BEEN EMBRACING PEOPLE ON THE STREET OR IN THE REFERRED ESTABLISHMENT PREVIOUSLY MENTIONED IS FALSE, BECAUSE I HAVE MADE ALL THE DETERMINED STANDARDS OF CONDUCT.
ADVERTISEMENT
Article continues below this ad
Providing feedback will help us make your experience better.
Enjoyed Your Read? Let us know how likely you are to recommend EssentiallySports to your friends!
After the diagnosis of the exam, which still needs to be checked, I kept total isolation, including keeping food on plates / cutlery that are not mixed with the others, something I did before the result and I will continue doing it, as a precaution and care.
Even so, as Marechal Candido Rondon Health Secretary, Marciane Specht, disclosed. TO BE MANDATORY ISOLATION, two Covid-19 symptoms like fever and a respiratory symptom are needed, which was not my case.
The fallacies counted brought annoyance and humiliation for me and my family, for all the lies invented and that will never be undone, because people who don't even know me increase the fakes comments, but that only occur in this city and not at the national level, where Instead of being attacked, I have received countless messages of support, including from people I do not know, but are more enlightened than these people who take care of other people's lives more than their own.
ADVERTISEMENT
Article continues below this ad
Finally, I come to clarify that those who divulged lies and audios fakes, will be held responsible for their attitudes before the justice ".
The case can only become a little more clear in the upcoming period.