Tennis player Tim Puetz Suffers Freak Eye Injury at Qatar Open 2021
Published 03/12/2021, 11:01 AM EST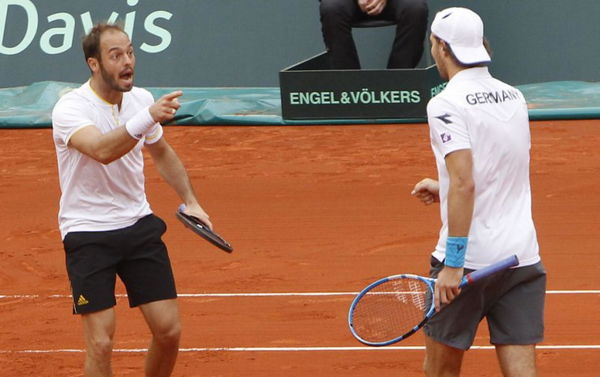 German doubles specialist Tim Puetz, who was partnering Dane Frederik Nielsen in the ongoing Qatar Open tennis tournament, suffered a freak injury on Wednesday after his racquet bounced off the turf and hit his eye.
The incident took place during the quarter-final clash with the Colombian pair of Juan Sebastian Cabal and Robert Farah.
Puetz and his partner had dropped the opening set and were bidding for a fightback when the unfortunate injury brought a halt to the proceedings.
ADVERTISEMENT
Article continues below this ad
With the German pulling out because of the injury, the Colombian pair got a walkover into the tournament's last eight.
Puetz stretched out his racquet to reach a serve down the middle. However, it accidentally hit the surface and caught him flush in the eye.
The German went down straight away, holding the affected eye and crying for medical attention. Soon, his partner and medical attendants rushed to check on him.
After a brief discussion with his partner, the German informed the chair umpire minutes later that he won't be able to continue.
Chair umpire Mohamed Lahyani gave the German an ice bag to dab at his eye. Puetz was heard telling his trainer, "I cannot see very well. Freddie (trainer), I can see pretty well when I'm stationary. But if I look around, I can't see very well".
The match stood forfeited and the Colombians, who looked to be the favorites given how the contest was shaping up, progressed to the semi-final.
ADVERTISEMENT
Article continues below this ad
Speaking during an on-court interview, Farah voiced sympathy for the German and wished him a speedy recovery.
"I feel very sorry for Tim. It's something none of us want, to get hit in the eye, and I really hope he recovers really well," the Colombian doubles specialist said.
The modest crowd which had gathered for the match was left stunned as the shocking incident unfolded.
ADVERTISEMENT
Article continues below this ad
A video of the incident later showed that the German lost hold of his racquet while trying to return the serve and it ricocheted off the surface to hit him in the eye.