It's no hidden fact that test cricket has been struggling for a while, in the presence of flamboyant T20s and dazzling ODIs, it has pretty much been ignored. In the past decade or so Tests have been running from one stake holder to another, swinging between the opinions that are for and against its existence and at times it has had to battle the rumours of its death as well. But I feel the recent results have put a major part of this debate to rest.
Those victories don't belong just to Bangladesh or the Windies, but to Test cricket as a whole. The biggest evidence for this revival is the fact that even in the presence of a million T20 leagues in progress across the globe; it was Test cricket that was making news rather breaking news, it were the Tests which were the centre of the critics cricketing lingo. But at the end of the day, it's not about these flashy headlines, but a lot more which we witnessed in the past week or so.
And what was that? We saw the beginning of revival of the Windies. Something which ODIs could never manage to show case, the T20s apart from tagging the men in red as T20 specialists didn't do much for their revival. Sure they have shown a lot of character and fighting spirit on numerous occasions, yet it never translated into dominance, or a victory attributed to their skills, rather it was the opponent's failure to conquer the underdog.
How about Bangladesh? A team which has been shouting out loud that it is as good as any other test playing nation and has been desperately trying to shed of the 'minnows' tag which has been associated with them since time immemorial.
The Windies Story
At one corner of the world, we had the beleaguered team from the Caribbean, which had been written off as early as the series against England was scheduled. Not many believed the men in red could achieve anything substantial against the English men; they were no match for the Roots, the Cooks and the Andersons. And the first Test match didn't help the cause either; it only strengthened the popular prediction of a complete dominance by England over the out of favour visitors.
And then comes the second test Headingly, while most of the critics had lost hope, the bruised and battered Windies entered the match with possibly the same thing 'Hope'.
What happened next wasn't expected by the cricket fans or cricket experts, the Windies fought back, putting up strong and at times a dominant display against England, and some highly spirited knocks by Braithwaite and Hope ensured that England has been knocked down, and Windies re home with 5 wickets to spare.
The Bangladesh Story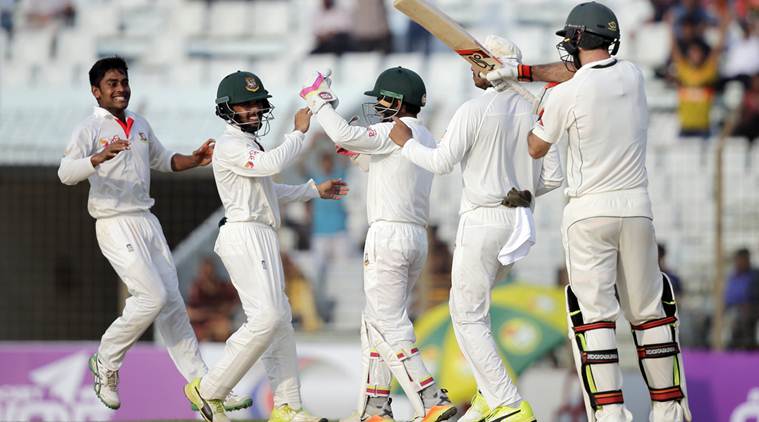 Bangladesh has by far been a victim of identity, but beyond that too they've had their struggles. With very fewer teams outside the subcontinent willing to tour them courtesy "Safety concerns" Bangladesh had to wait. An eternity after Bangladesh achieved test status; Australia finally agreed to tour Bangladesh. But there was more in store, as he Australian cricket board v/s player dispute stepped in and stayed like an unwanted guest, Bangladesh was anxiously hoping for its resortment while it was arranging for all possible safety measures.
But eventually things did fall in place the Aussies stepped on the Bangladeshi soil, the same soil on which Bangladesh's greatest ever turned the ball and twisted his wrists with the bat to lead the tigers to a thrilling yet glorious victory.
Upsets? Nah..!
But like most others don't consider these wins as upsets. They simple aren't upsets. Victory in tests requires display of character, skill, persistence and some highly motivated fight backs. Just because lesser favourable sides have triumphed, it isn't just to consider these as upsets for they have daunted the opposition and dominated sessions with grit on display. Calling them upset would take away credit from the toil of the two underdogs. Yes Goliath did lose and it's an upset for him and his followers, but David's victory isn't by fluke, ask him about it and he'll have a tale to tell.
Yes, may be this isn't an end to Bangladesh's long wait, they'll have to win many more like these to prove their mettle, may be this doesn't end all the mess that the Windies need to clean up, they'd need much more to match their past self. May be this doesn't end the rumours of death of test cricket, but it surely offers a life line, a helping hand to pull all the three out of their pits, into the sun and let them grow.