"That's How Big the Demand Is"- Tony Khan Talks About CM Punk AEW T-Shirts Breaking Records
Published 08/26/2021, 8:45 AM EDT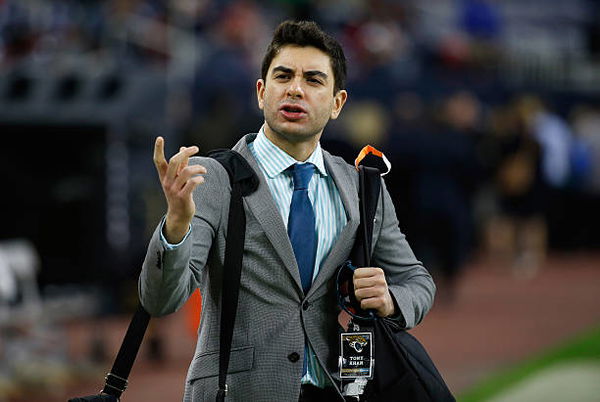 ---
---
"Look in my eyes, what do you see?" Well, Tony Khan might want to answer that as money. With the acquisition of CM Punk, Tony Khan made much more than headlines. AEW was trending all over the world and it drew a lot of eyes to the product. There were reports that the ticket sales at all their venues also have already gone up. It would be foolish to assume that the PPV sales for All Out will not be massive.
ADVERTISEMENT
Article continues below this ad
It intrigues many fans about how much Tony could have possibly paid to acquire the services of Punk. Tony, recently in a conversation with Le Batard and Friends podcast, revealed that it is one of the best deals he has made. Tony, although, didn't reveal how much exactly he paid for Punk, but feels his first day at the company covered a lot of costs.
ADVERTISEMENT
Article continues below this ad
A ton of cash for Tony Khan with CM Punk's arrival
ADVERTISEMENT
Article continues below this ad
According to AEW, this is a long-term investment and not only about quick sales. Tony said he knew this would bring lapsed fans back. People who had never seen the product would be excited. It is rather rare for any other promotion to take away the spotlight during SummerSlam weekend.
Tony talking about the record sales at pro wrestling tees said, "We have, in fact, for the ringer tee, the blanks, we bought out the entire country's supply of that style of t-shirt because that's how big the demand is for CM Punk merchandise right now". It wasn't long ago that reports surfaced that even the higher-ups at TNT are looking to use their marketing team for Punk.
ADVERTISEMENT
Article continues below this ad
Tony added that this will only get bigger, be it ratings, merch, other revenue streams. AEW already see themselves in a sweet spot with their move to TBS around the corner. AEW will also have four specials every year on TNT. Earlier, this report stated that AEW was in the red, but Tony said he has a plan and it is going better than expected. We expect AEW to release their game soon, which, of course, will be another cash cow. One thing is for sure, the tide AEW is riding right now seems positive and many more are coming for the ride.