"That's Messed Up" – Valkyrae Talks About Getting Cancelled by Addison Rae Fans Over a Misunderstanding
Published 04/27/2021, 11:44 AM EDT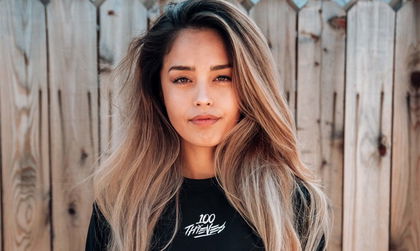 ---
---
The internet has its fair share of controversies. Popular celebrities, streamers and content creators have all been part of some weird situations and gossip. But recently, Valkyrae talked about her latest issue that stemmed from a minor misunderstanding, which has now caused a massive war against the fans of popular TikTok creator, Addison Rae. The fans tried to cancel the streamer, but she put the entire matter to rest in a recent stream.
ADVERTISEMENT
Article continues below this ad
ADVERTISEMENT
Article continues below this ad
Valkyrae opens up about getting canceled by Addison Rae fans
In her latest stream, Valkyrae talked about the weird situation of getting canceled by fans for no reason. She said that she found out about this issue after many Addison Rae stans commented on her TikTok about addressing an 'issue'. Back then, she had no idea about a problem with the TikTok star. She then continued by saying that she found out that Addison's community blamed her for getting canceled.
"I am reading these comments, like WHAT HAPPENED?" The minor misunderstanding that caused this fiasco
She then disclosed that she tried getting to the root of this issue. She found out that the entire problem stemmed from her idea to join the Dream SMP for a tour with Karl Jacobs a few months ago. While she never played the game with the crew, she joined the Discord chat that also involved other streamers like TommyInnit. Upon her arrival, Tommy joked about Addison Rae joining the server because both the creators shared the same last name of Rae.
This seemingly minor issue became a massive problem for Valkyrae, after fake rumors of bad blood between Tommy and Addison spread. It was rumored that the TikTok creator shared the streamer's address and tried to kick him off the server. So, this caused her to get heat from the entire Minecraft community. As it was Valkyrae on the Discord chat, fans of Addison blamed her for Addison's problems and tried spreading fake rumors that she was the one causing all the problems to Tommy.
ADVERTISEMENT
Article continues below this ad
While she thinks that Addison wouldn't do anything like it, she messaged Tommy to know a bit more about the situation. She also told her fans to ignore the comments because they aren't true at all.
"I am just letting you guys know, if you see a bunch of those comments on either of our TikToks, it's probably, definitely not accurate."
Valkyrae has found herself in a very weird situation. Normally, misunderstandings like these go away quickly. But with a strong Minecraft community believing these lies, it would require Tommy to put the matter to rest.
ADVERTISEMENT
Article continues below this ad