The Ashes 2019: Umpiring Errors Dominate the Opener
Published 08/02/2019, 3:39 PM EDT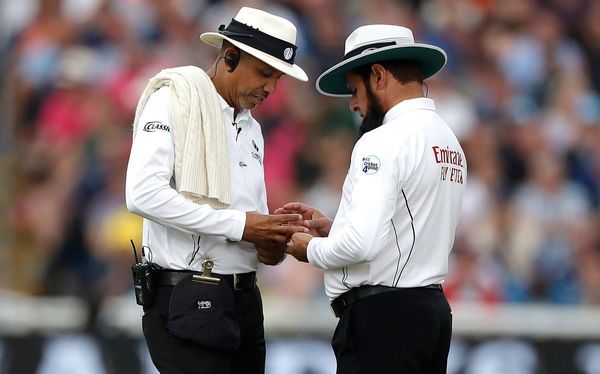 The Ashes 2019, as always, did not fail to stage its share of drama. Apart from the age old rivalry, The Ashes this time had more to it.
ADVERTISEMENT
Article continues below this ad
The hosts at any Ashes have always been hostile to the opponents. This time the England crowd had that much more reason to be hostile. When David Warner and Steve Smith would walk in after serving an year long ban, the crowd weren't going to refrain themselves from reminding the duo of why they had to stay away from cricket. And that is what happened. The first day saw England fans get at the Australians.
Turning the concentration to cricket, the first day of The Ashes 2019 saw some exhilarating action. Steve Smith's innings was batsmanship of the highest quality. Stuart Broad was excellent with the ball. But from the third ball of the innings, the onus was on something other than batting or bowling. Something which always receives criticism in cricket.
ADVERTISEMENT
Article continues below this ad
Two people who weren't either batting, bowling or fielding came under the scanner. The Umpires. Joel Wilson, who was recently added to the ICC Elite Panel for umpires, along with Aleem Dar did not seem to start the Ashes very well.
As Wisden wrote, "23 balls of drama kicked off The Ashes."
The first 23 balls saw a review that was wasted, and two instances where a review, if taken, would have overturned the on-field decision.
The two days further went on to witness a few more umpiring errors. The umpires have made an error in judgement on 10 decisions over the course of the first two days. And in case you were wondering about the count of each umpire, both Aleem Dar and Joel Wilson were level at five-a-piece.
I never thought I'd see an umpire struggle more than Tony Hill in 2013 but both at once today is quite something #Ashes

— Daniel Brettig (@danbrettig) August 1, 2019
Joe Root was probably the luckiest, when he was given out caught behind and replays during his review showed that the ball actually kissed the stumps, but the bails did not fall. Root though, did not go on make big impact.
ADVERTISEMENT
Article continues below this ad
Before that, in the Australian innings Chris Woakes could claim the wickets of Usman Khwaja and Mathew Wade only after a review, while James Pattinson walked away without bothering to review a decision.
ADVERTISEMENT
Article continues below this ad
It all started in the first over, when England did not review Warner's caught behind and a few balls later, Warner walked away without reviewing.
However hard the job of an umpire might be, it was still surprising to see so many errors within such a short span.