The Battle for Supremacy: Roger Federer, Rafael Nadal or Novak Djokovic?
Published 02/11/2020, 2:33 AM EST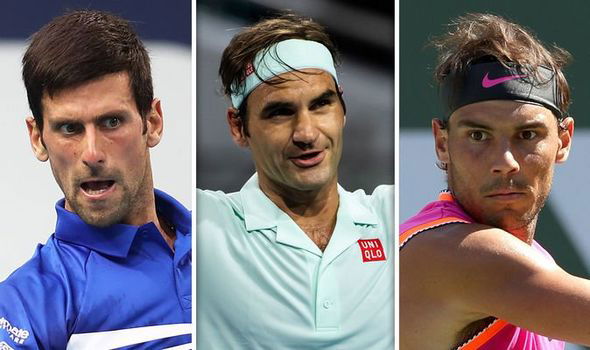 ---
---
The story more or less begins in 2001, when a young Swiss beats Pistol Pete at the hallowed SW19. The story has its first milestone in 2003, followed by the introduction of a Spanish character in 2004. The setting was Miami. A Serbian joins the story later and is the lead character in the chapter titled- AO 2008. More than a decade later, having passed multiple milestones and the introduction of several side characters, the story is heading into twilight.
ADVERTISEMENT
Article continues below this ad
It's probably the most captivating tale of modern age sports. Roger Federer, Rafael Nadal and Novak Djokovic, have been weaving it out page by page and have not only given the most riveting 15 odd years to tennis but have also raised the toughest questions centered around the term GOAT– Greatest of All Times, if there is such a thing to begin with of course.
The Battle At The Top
ADVERTISEMENT
Article continues below this ad
In terms of sheer numbers, beginning with the most important one, Roger Federer still leads the tally of most Grand Slam Titles on the men's side with 20. Rafa Nadal is at 19, and you'd expect him to match Federer at French Open later this year. With an eighth title in Melbourne, Novak stands at 17. Federer also leads the stat of spending most number of weeks as the ATP #1, with 310 weeks. Djokovic has spent 277, while Rafa 209. 
Novak Djokovic has eyes on both these significant records, and looking at his trajectory, especially for the most number of weeks, he could very well overatake Roger this year.
Djokovic is one shy of Rafa's record of 35 ATP Masters 1000, Federer is at 28. There are no Masters 1000 on grass, Federer's favorite surface. We'll leave the relevance of this race up to you.   
Federer has never seen his GS lead shrink down to just one! And it is highly likely that in Paris, Rafa will match his number. Novak on the other hand looks in prime form and condition to win more multiple majors, and unlike Rafa, he is the heavy favorite at the non-clay slams. It's hard to bet against Novak currently to not end up with the most number of majors, weeks at #1 and most Masters ATP 1000. He will most likely have more number of ATP World Tour Finals than any other player, as well as a record 'year-end number one' to his name.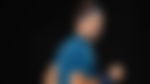 Against The Very Best
Novak Djokovic excels when it comes to facing the very best opponents, his records against Top 5 and Top 10 is staggering. Better than the other two candidates for the GOAT tag.
% of Top 5 wins:
Djokovic – 60.2%(100-66)
Nadal – 59.5%(85-58)
Federer – 58.1%(104-75)
% of Top 10 wins:
Djokovic – 68.6% (209-96)
Nadal – 65.2% (171-92)
Federer – 64.6% (223-123)
Of course, both Rafa and Novak will take hits to those percentages towards the end of their careers, but as things stand, they both, especially Novak have excelled more than Roger.
Statistically, Novak might have the biggest claim to THAT tag when all is done. Yes that one, GOAT. But it's never all about the stats, or is it?
Rivalries and Matches that defined them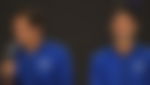 Federer-Djokovic: 23-27
Djokovic leads the H2H, with 11-6 in the majors. His latest triumph coming in the Australian Open 2020. It'd be safe to say that Federer will never be able to lead Novak again in their head-to-head. A major revolving point of this tussle has been how often Novak has been mentally more locked down in the biggest of moments.
Be it the 2011 US Open Semi-Final-down 2 match points on Federer serve, the 2014 Wimbledon Final- down break point in the seventh game of the fifth set, the 2019 Wimbledon Final-down 2 Championship Points on Federer serve, Djokovic has more often that not won the points that have mattered the most. And the narratives will be constructed heavily around the points that Roger didn't win. 
Nadal-Federer: 24-16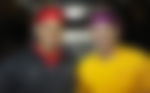 Arguably the most iconic rivalry in all of sports currently. This is where it all started, a Spanish player, coming through the ranks to push the dominant Swiss to his limits. And boy did he do a great job at that. FEDAL has been the most exciting rivalry to witness, primarily due to the contrasting playing style.
Wimbledon 2008, will most likely go down as the greatest tennis match of all time and will be heavily used by Rafa supporters to put his claim to THAT tag. Beating a prime Federer in his own backyard was gigantic and that win still reverberates through the corridors of tennis debates. Had Federer defeated Rafa in Paris, we probably wouldn't be seeing the '08 win in the same light. Had Rafa defeated Federer in the 2017 AO Final, he might have already surpassed Roger Federer in this debate. The relevance of this rivalry is probably the least going forward. The impact it left on the game, is unbeatable.
Djokovic-Nadal: 29-26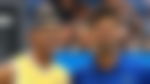 The closest, the hardest fought and the even rivalry across all the surfaces, Nadal and Novak push each other to the absolute limit. Novak leads this one too and it's hard to see him giving up the lead. He also has the coveted tag of being one of the two players to have beaten Rafa on the crushed bricks of Paris. With Novak catching up to Rafa in the Grand Slam race, this decade, or whatever number of years these guys are around, will be shaped by this rivalry the most. Both Novak and Rafa have at least 3 more years of top level tennis in them and how many titles each of them ends up with , will be based heavily around how often they meet each other in the coming years. Especially in the majors. 
What if Rafa had won that fifth set? Yes, that one- at the end of which Novak ripped his shirt off. What if Novak had won that French Open final? It's the slimmest of margins. Like it always has been. 
Across all the three rivalries, Novak emerges as the strongest candidate again, his grip on that virtual GOAT trophy, further strengthens when you see how he fares against 2 of the greatests players to have lived. 
Beyond The Numbers
It's blatantly obvious there's more to game than just numbers. 
Roger Federer isn't even a player of the generation of Rafa or Nole, and yet, he's still here. Relevant to the extent that he was a point away from beating them both back to back at last year's Wimbledon. But away all the same. Irrelevant whether by a point or not. 
Is Federer a player who is performing beyond his limits, competing against 2 greats of a younger generation he was never a part of? But then we shouldn't even consider generations while talking about the GOAT, right? 
Roger Federer is probably the most flamboyant player of the three. Making it look easy as they say. With a wider range of shots up his sleeves for the same kind of ball. He is widely regarded as the most naturally gifted player to pick up a racket. The most popular guy on the tour as well as the greatest ambassador of the game. Federer will most likely go down as the biggest 'star' the tennis world has seen. If there were to be a worldwide poll about the GOAT tag, he'd most likely win it, irrespective of the numbers he ends up with. 
If you were to model your life to succeed in a thing you love, look no further than Rafa Nadal. He's worked his way to 19 Grand Slams majors, despite missing a lot of them due to unfortunate injuries. He's a warrior on court, playing each point with the same intensity and focus. Probably the player with the second largest fanbase. Is picking a player to play a match for your life your heaviest GOAT criteria? If yes, join team Rafa. 
Novak Djokovic will go down as probably the least supported legend of any sport. Part of which is due to how he was the last to enter the story. And when he did, the tennis loyalties were already divided. A Swiss and a Spanish already had the crowd on their strings. But Novak did what he was meant to do, he emerged not only against the heavy odds across the net but also the brouhaha that his rival fans pitched against him. A man thriving under the most extreme circumstances. And most likely, the most clutch player ever. He's the protagonist of this story now, a man on course to end as the most decorated player. Will he complete what he started? Probably. If he doesn't, would that lessen his GOAT claim? Probably not. There's more to it than numbers.
ADVERTISEMENT
Article continues below this ad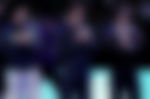 Novak Djokovic doesn't need the numbers to win this debate. And neither do Roger and Rafa. What Novak does slightly better than the others is how often he wins matches that should have been won by others. How often he has won that one point that has shaped tennis history. How in the last two editions of Wimbledon he played 2 crosscourt passing winners deep into the fifth sets against Rafa and Roger, to flip the matches on their head and to write history a little differently. But hey, you are not supposed to agree with this narrative. That's the beauty about such discussions
So, who is to decide who's the GOAT? You, the one reading this? Or should I do that for you? Or some tennis legend you admire the most? Or a worldwide poll? 
ADVERTISEMENT
Article continues below this ad
If three people belonging to each of these fandoms walked into a bar 5 years down the line, expect 'Nolefam' to come out of it being the least irked. That's all there is to this. Nothing more, nothing less. Three legendary players who'll hang their rackets when they feel it's right, only to leave their supporters discuss THAT tag for eternity. With no definitive answer in sight. Until then, savor what you witness, enjoy the story and come back to this when the dust settles.