The Best of Kimi Raikkonen: Funniest Quotes From His F1 Career
Published 01/07/2020, 7:28 AM EST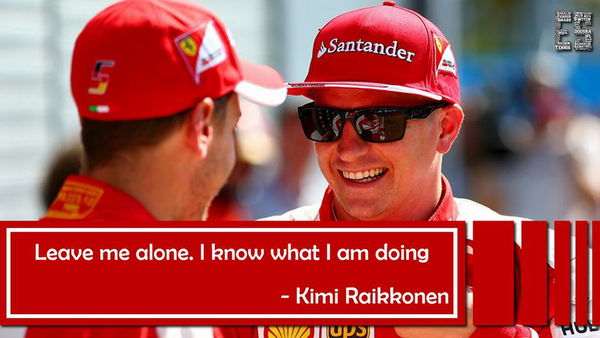 ---
---
Kimi Raikkonen, the popular Iceman and the 2007 World Champion is amongst the most popular drivers on the grid, with such a strong fanbase. His driving skills especially during his prime seasons as a Ferrari driver from 2007-2009, justify the fan following. There is more to the Iceman than his driving skills. His witty responses and straightforward approach during interviews definitely make him immensely famous for standing out from the crowd!
ADVERTISEMENT
Article continues below this ad
Funniest Kimi Raikkonen Sayings
9. Drinks and steering wheel
ADVERTISEMENT
Article continues below this ad
During the 2017 Azerbaijan Grand Prix, there was a red flag thrown during the race and all cars had to return to the pit lane. When the restart was approaching, the Ferrari team informed Raikkonen that he would be wheeled towards the front of the pack and did so. However there were a couple of items missing, namely his thermal gloves and his steering wheel and he demanded for the items to be brought, pronto.
8. Is the drink on?
Kimi Raikkonen was in for a tough time during the 2018 Hungarian Grand Prix when the team forgot to connect his water bottle. Unfortunately, they were experiencing slight technical issues with the radio, so the Finn was constantly asking whether the drinks bottle was connected. The back and forth exchange continued until Kimi finally got the message.
7. I'm only here to eat
During th pre-season test ahead of the 2019 season, Raikkonen was asked about how testing went for himself and new teammate, Antonio Giovinazzi. As if on clockwork, Kimi Raikkonen joked: "You should ask him. I just came to eat!"
6. 'It feels normal'
So if you were given a chance to ask a Formula One driver something, everyone will definitely ask how it is to be on one of those cars, with all that adrenaline rush and high speeds.
So an interviewer asks Kimi, "How does it feel to drive at 300km/h?"
Kimi:  "It feels normal"
Certainly not a reply you were hoping for!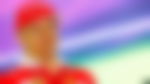 5. Are you bored in the car?
So, once this interviewer asked a very peculiar question, "Is it sometimes that you're bored in the car?". With the current status of cars being that every moment something or the other is going on and on, the drivers really can't even afford a single minute of distraction.
But Kimi is not like everyone else. His reply," Only when I am in front by a country mile, like in Melbourne last year. Then you are thinking about other things or you're playing with the buttons on the steering wheel."
4. 'It protects my head'
A lot of drivers like Sebastian Vettel and Lewis Hamilton wear helmets that usually have a strong meaning behind it. It is much more than an equipment for them, it carries a message, a slogan, and before this year, they changed it for every other race! So what was Kimi's take on this particular tradition?
Interviewer: "The helmet has a special meaning for many drivers. How important is it for you?"
Kimi: "It protects my head"
CASE CLOSED!
3. The most boring part of the race? NOW!
Interviewer: "What is the most interesting part of the race?"
Kimi: "I think so it's the start, always"
Interviewer: "The most boring?"
Kimi: "Now" (with a small clever grin)
2. 'I was taking a sh*t'
Martin Brundle: "Kimi, you missed the presentation by Pele"
Kimi: "Yeah"
Martin Brundle: "Will you get over it?"
Kimi: "Yea, I was having a sh*t"
*Classic Kimi*
ADVERTISEMENT
Article continues below this ad
1. 'Leave me alone, I know what I am doing!'
Kimi Raikkonen was on to his first victory after his comeback with Team Lotus in 2012 at the Abu Dhabi Grand Prix. More than him, his racing engineer was panicking, poking the Finn again and again about precautious things to do. In response to this, Kimi shouted on the team radio,
ADVERTISEMENT
Article continues below this ad
''Just leave me alone, I know what I am doing!" to silence his engineer till the end of the race.
He's a world champion after all!