The Best Performances of Lewis Hamilton's Career So Far
Published 12/24/2019, 7:45 AM EST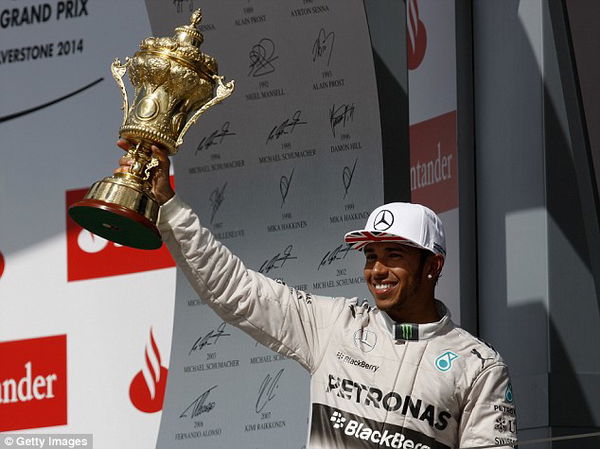 ---
---
Lewis Hamilton, the newly crowned six-time Formula One World Champion has driven some of the most memorable races that deserve a place in history books. Records shattered, races won, pole set, Hamilton's star has risen to the top and is continuing to rise. Essentially Sports brings you Lewis Hamilton's best performances in his career so far.
ADVERTISEMENT
Article continues below this ad
Lewis Hamilton's best performances
2015 Japanese Grand Prix
ADVERTISEMENT
Article continues below this ad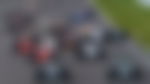 A race that defined this season's championship battle. Rosberg started on pole, but was out-muscled by Hamilton through turns one and two on the opening lap and never managed to regain the lead, with his British nemesis going on to lead every lap en route to victory. It was an exhibition display from Hamilton as he equaled Ayrton Senna's tally of 41 grands prix victories.
2015 British Grand Prix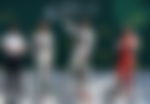 Hamilton appeared in real danger of losing out to Rosberg as a heavy rain shower spiced up the closing stages of the Silverstone race. Rosberg was taking chunks of time out of his Mercedes team-mate before the Briton made the inspired call to stop for wet-weather tires. It was a huge gamble, but one that paid off as the rain intensified and Hamilton claimed his third British Grand Prix win in front of a partisan home crowd.
2007 Australian Grand Prix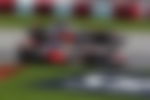 After winning the GP2 in his rookie year in 2006, Hamilton announced his arrival in Formula One with McLaren next year. Hamilton impressed in the practice sessions but could not take that form into the qualifying and started fourth on the grid in his Formula One debut race. After being stuck in fourth position by the leading three, Hamilton passed a struggling Alonso for third position on the outside of the first corner gracefully, a dangerous and a bold move which was applauded by the vociferous Australian crowd. After that Hamilton drove a neat and eventless race to grab a podium place in his debut race. This race, thus, marked the arrival of a unique talent to the Formula One world.
2007 Canadian Grand Prix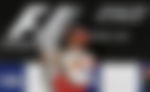 Hamilton took both his first pole and first win in his Formula One career in the Canadian Grand Prix in Montreal. Hamilton led from the pole and prevented Fernando Alonso from overtaking him on the first turn by shielding the inside gap. From there on due to mistakes made by Alonso, he kept on increasing his lead until the safety car deployment on lap 22 because of Adrian Sutil's crash.
Despite the safety car being deployed four times during the race, Hamilton, calmly drove from pole to win his maiden Formula One race. As a result, Hamilton now led the Drivers' championship at a young age of 22. Hamilton received accolades by racing legends such as Niki Lauda and Damon Hill who were mesmerized and stunned by the young fellow. From there on it was no looking back as he showed his dominant self by finishing first the following weekend in Indianapolis.
2008 British Grand Prix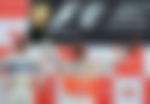 After failing to score in his previous two races and falling from first to fourth in Drivers' championship, Hamilton was desperate for improvement in his home race. The weather forecast predicted a wet weekend. Hamilton started the race placed fourth on the gird on intermediate wet tires, behind Kovalainen, Webber, and Räikkönen. Webber and Räikkönen struggled for pace early and both were passed by Hamilton in the first corner. Hamilton, eager for an improved show, kept the pressure on Kovalainen by closing him down, forcing him into making a mistake and eventually passed him on Lap 5.
Kovalainen spun and was passed by Räikkönen on the tenth lap, who started cutting down Hamilton's comfortable lead. However, a gamble by Ferrari misfired as they chose not to change Räikkönen's tires. Rain on subsequent laps meant a struggle for Räikkönen, who was eventually passed by Heidfeld and Kovalainen, while Hamilton gained about 8 seconds a lap. Hamilton crossed the finish line on lap 60 to win by a margin of astonishing 68 seconds. The margin of victory was the largest since the 1995 Australian Grand Prix. "It is definitely and by far the best victory I've ever had," he said afterward.
2008 Brazilian Grand Prix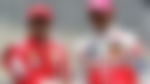 One of the most dramatic and poignant races that Hamilton has driven is certainly the race at Interlagos track in 2008. At the season-ending Brazilian Grand Prix of 2008, Felipe Massa of Ferrari needed to win the race, with Lewis Hamilton of McLaren finishing 6th or worse, to secure the F1 World Championship.
Massa managed a win in his dominant display at the front, starting from pole position. While,Massa crossed the chequered flag , Hamilton was struggling for pace behind Vettel in 6th. Massa and Scuderia faithful began celebrating the win and his title. But fate played a cruel game with the Ferrari driver, and Massa's celebration was shortlived, as Hamilton overtook a strugging Timo Glock at the wet Interlagos track to finish 5th ,39.09 seconds after Massa had crossed the line. It couldn't have been any crazier and dramatic than this. Joy turned to tears and frustration turned to tears of joy.
On the slowing down lap Hamilton lifted his visor and dabbed his eyes, saying on the radio "I am speechless." He applauded the crowd and thanked god by pointing his fingers in the sky with overflowing emotions. Later, Lewis Hamilton was congratulated by an emotional Massa on winning his first of the three World Championship.
2011 Chinese Grand Prix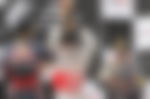 This was the time when Red Bull was at its peak and dominant best. Sebastian Vettel after winning the 2010 Drivers' Championship and helping Red Bull win the 2010 Contructors' Championship, qualified comfortably on pole position because of his superior Renault V8 engine, with Jenson Button and Lewis Hamilton behind him. The other Red Bull car of Webber qualified on 18th because of mechanical problems. The race had its fair share of exciting and thrilling moments.
McLaren executed a perfect three stop strategy on Hamilton which enabled him to overtake his teammate on Turn 1 midway in the race. After coming into second position , Hamilton caught and passed the Championship leader with four laps remaining, which enabled him to cut Vettel's lead to 21 points. This race truly showed how unpredictable were the new Pirelli tires. Hamilton was overjoyed with the win, terming it as his one of the best races and dedicated his victory to the "guys in the factory".
2012 Canadian Grand Prix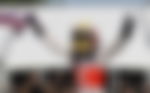 After having 6 different winners in the opening 6 races of the 2012 F1 calendar, it was time time for an encore in Montreal to become the seventh such circuit. Vettel started the race on pole ahead of Hamilton and Alonso. McLaren executed a clever stop for Hamilton to leapfrog Vettel in second place. Two laps later, Hamilton overtook Alonso in the DRS zone to gain the lead.
As Hamilton's stint wore on, Alonso was continuously eating into his lead. In the latter half of the race, he decided to make his second pit stop. He rejoined the pack in 3rd place, 9.5 seconds behind Vettel. Alonso and Vettel decided to not go for a fresh set of tires in the closing stages. Hamilton's two-stop strategy worked to perfection as he hunted down Vettel and Alonso on lap 62 and 64 respectively and thrillingly won the race.
2014 Bahrain Grand Prix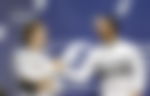 Most of the Hamilton's best races have come while he is chasing. But this race is completely the opposite of what you'd expect from him.
Nico Rosberg started the Bahrain GP on pole ahead of Hamilton. However, he didn't get the best of starts as Hamilton passes him on into the first corner. Rosberg attempted to fight back but Hamilton covered the inside line and gave him no room. Rosberg, then , continued to preserve his fuel to attack during the latter stage of the race.
In doing so, he ensured that he remained within 2 seconds of Hamilton. On lap 18, Rosberg was in the DRS range. So he started causing problems for Hamilton as both the Mercedes stayed neck to neck in chicanes. Just before the pitstops, Hamilton went ahead and was given first preference. Hamilton's Mercedes was now on soft compound tires while Rosberg's was on harder medium tires.
Because of soft tires being faster, Hamilton was able to build a healthy lead of over 10 seconds on Rosberg. This, didn't dent Rosberg's chances as they went on their final stint. Hamilton got the prime tires and Rosberg has the option tires. On lap 40, both the Mercedes pitted under the safety car after Esteban Gutiérrez rolled his Sauber. This meant a disadvantage for Hamilton as his lead was completely squashed, while he was on the slower tires.
Both Mercedes went wheel to wheel, often trading paint jobs and Hamilton was forced to defend. Rosberg braked late into many turns but Hamilton defended well. Mercedes' executive director Paddy Lowe had to remind them to bring both cars home. Such was the intensity of the battle. Finally in a gripping race, Rosberg was unable to break down Hamilton's gritty defence, handing him his second consecutive win. While Hamilton has himself said that he enjoys chasing , this race proved his mettle to defend in tight situations.
2019 Hungarian Grand Prix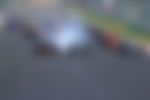 Hamilton's racecraft at the start was exemplary, as he searched for the outside run on team mate Valtteri Bottas while running downhill. Pinching Bottas to the inside, Hamilton gained momentum and went wheel-to-wheel right around the corner. Bottas for his part, gave him enough room to overtake and slot in behind Max Verstappen. As Hamilton finally scraped past, his left rear wheelrim sparking off Bottas' right-front, so Valtteri lost momentum through being pushed out so wide – making him easy prey for Leclerc's Ferrari as they raced up the hill towards the sixth gear kink of turn four.
The harder Hamilton pushed, the more Verstappen's tyres were being punished and this was very much part of Merc's strategy. It was also worth noting that Lewis Hamilton was not complaining about any tire wear.
2018 Singapore Grand Prix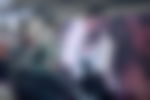 Lewis Hamilton and Mercedes dominated during the 2018 Singapore Grand Prix. This emphatic victory ensured that he had one hand on the championship. The Briton capitalised on a Ferrari collapse, with Max Verstappen right on his tail in 2nd place. Admittedly, Hamilton lucked out with a software-induced misfire for Verstappen in qualifying, and the race was his to lose.
2018 German Grand Prix
ADVERTISEMENT
Article continues below this ad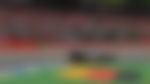 This race will forever be remembered for Sebastian Vettel bottling it in the dying stages of the race, and handing an easy win to Lewis Hamilton. Hamilton himself, endured a poor qualifying to start 14th, owing to a mechanical failure. However, he put all that behind him and charged his way back through the field. He then took advantage of a dramatic late rain shower that resulted  in his championship rival Sebastian Vettel crashing out from the lead.
2019 Monaco Grand Prix
ADVERTISEMENT
Article continues below this ad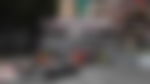 On lap 11, the safety car was deployed after Charles Leclerc damaged his Ferrari's floor when he punctured his rear tire. The safety car appearance guaranteed that race-leader Lewis Hamilton was on his toes for the remainder of the race. That was mostly because he was forced to defend from Max Verstappen but on a much more delicate tire. To make matters worse, Mercedes miscalculated the tire wear and confessed that they should have fitted Hamilton with the hards.