The comeback conundrum for Harbhajan Singh
Published 05/29/2015, 7:40 AM EDT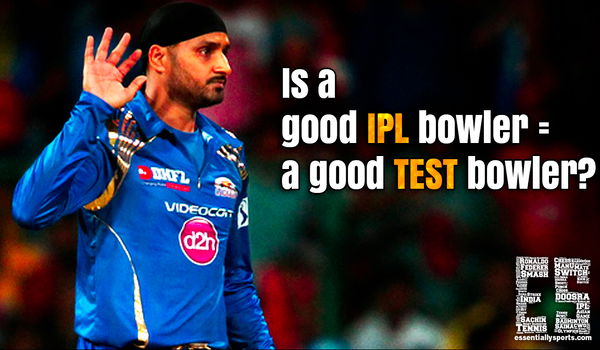 ---
---
'Yatra pratibha avsara prapnotihi'. these are the words emblazoned on the trophy awarded to the winners of the Indian Premier League, which mean 'Where talent meets opportunity'. Indeed, it is a great platform for youngsters to make their mark and stake a claim for a spot in the national team, and as the recent case of Harbhajan Singh suggests, even veterans can do the same, with him being selected for the one-off Test versus Bangladesh. But does a solid IPL performance warrant a place in the Test team? Do we have anyone better to put in, instead of him? Here's what I feel.
ADVERTISEMENT
Article continues below this ad
The IPL – A fair criterion?
Bowling in a Test match is poles apart from a T20 game. Both require a completely different set of skills and repertoire. Test match bowling is an art in itself, as it tests the bowler in every possible way, be it skill, stamina – both physical and mental, consistency, understanding the opponent, etc. On the other hand, T20 bowling is more focused on variations and conceding the minimum amount of runs. You have just 24 balls to maximize your impact on the game, and each ball is as valuable as the next one.
ADVERTISEMENT
Article continues below this ad
Taking a wicket in a Test is generally an arduous process. It involves building pressure on a batsman by creating plans and traps based on a batsman's weaknesses, and working ball-by-ball to create pressure and compelling the batsman to finally succumb and give his wicket away. A spinner may be required to bowl more than 50 overs in a single innings, which demands a high level of stamina and mental strength. In comparison, wickets in T20 games are guaranteed in a certain way, especially if you are a spinner, as after a certain point of time, the batsmen will have to attack the bowling, which makes catches in the deep and stumping much more likely and thus resulting in a good number of wickets for the spinners, as long as their line and length are not of abysmal standards. A good T20 bowler is one who is economical, which consequently results in wickets, as a low economy rate results in more pressure to go for the big shots on the batsmen. Fitness requirements in T20s are almost negligible in comparison to the longer format of the game.
So is it reasonable to pick Harbhajan Singh to the Test side after a good IPL season? The above paragraph would suggest that it is not. This brings me to my next issue. If not the IPL, then what criteria should be considered?
The Ranji Trophy – A dwindling competition?
The Ranji Trophy is India's premier domestic competition with 27 teams participating, and teams consisting of veterans and rookies alike. It is considered to be the stepping stone to a place in the national team and a breeding ground for cricketing talent. Performances in this tournament over seasons are usually indicators of a player's potential and prowess in the longer format of the game. Harbhajan Singh had a quite torrid 2014/15 Ranji season as he played just 3 matches, taking a paltry 6 wickets, at an average of 42.50. Yet, this performance has seemingly been ignored.
A look at the statistics from the Ranji games shows that there is a clear lack of off-spinners who can challenge Ravichandran Ashwin in the Test side. Parvez Rasool is perhaps the only off-spinner that has set the domestic stage on fire in the last few years. But he too had an off season last year with just 13 wickets from 8 matches at 50.23. The off-spinners who did well last season were Swarupam Purkayastha of Assam who scalped 36 wickets at 17.50, Malolan Rangarajan of Tamil Nadu who took 36 wickets at 28.75 and Jayant Yadav of Haryana who scalped 33 wickets at 17.66. But the trio is highly inexperienced — the three have played just 14, 25 and 29 First-Class matches respectively.
Another pressing issue that afflicts Indian cricket is the diminishing value of the Ranji Trophy. A youngster, who dreams of breaking into the Indian test ranks, faces the option of sweating it out for four days, in godforsaken venues, in front of empty seats or save his best for the IPL, where there are better chances of being spotted and earning some good cash too. The choice seems obvious, doesn't it? Indian cricket today is littered with examples of cricketers playing fewer and fewer Ranji games, citing injury concerns. Yet, somehow, none of them seem to miss a single IPL game the same season. Most talented players now focus on the IPL, and it is now becoming the norm to see players being chosen to the test side on the basis of their IPL performances, rather than their Ranji show.
Take the spinners in the Indian test squad as an example. With the exception of R. Ashwin, who has been an integral part of the Indian test squad and hence hasn't featured in many 4/5 day games at the domestic level, both Axar Patel and Karn Sharma didn't really set the Ranji stage on fire in the season leading up to their test selection. 2012-13 saw Patel play just one Ranji game for Gujarat; in 2013-14 he played seven, failing to make the list of top 20 wicket-takers. Sharma played just 3 games for Railways in 2012-13 and despite playing eight matches in 2013-14 the leg-spinner finished outside the top 50 wicket-takers that season. Irrespective, the two were picked in the Indian test squad in the winter of 2014. Coincidentally, both had outstanding seasons for Kings XI Punjab and Sunrisers Hyderabad in IPL the same year. So, Harbhajan's inclusion on the back of a strong IPL season isn't all that surprising.
ADVERTISEMENT
Article continues below this ad
Who, if not Bhajji?
Let's leave aside the fresh faces for a moment and take a look at the existing crop of spinners who have played Tests in the last few years. Here's a comparative table, analyzing the performances of our spinners in Tests over the last five years –
| | | | | |
| --- | --- | --- | --- | --- |
| Name | Matches | Wickets | Average | BBI |
| R.Ashwin | 24 | 119 | 30.67 | 7/103 |
| Pragyan Ojha | 21 | 100 | 30.36 | 6/47 |
| Harbhajan Singh | 18 | 58 | 41.15 | 7/120 |
| Ravindra Jadeja | 12 | 45 | 30.37 | 6/138 |
| Amit Mishra | 4 | 11 | 56.36 | 3/47 |
| Karn Sharma | 1 | 4 | 59.50 | 2/95 |
| Piyush Chawla | 1 | 4 | 33.25 | 4/69 |
ADVERTISEMENT
Article continues below this ad
The statistics do not provide for pretty viewing as no bowler appears to stand out with his numbers. In the last five years, in terms of average, R Ashwin is the highest ranked Indian spinner at number 11, with James Anderson and R. Herath leading the pack with averages of 25.88 and 26.95, respectively. Pragyan Ojha and Harbhajan Singh provide some competition but they haven't played a single test since 2013. Jadeja is a good option with his all-round abilities, but his skill set when it comes to bowling is found lacking, as his USP is consistency in line and length, which proves effective in T-20s, but not to the same extent in Tests. The other three – Mishra, Sharma and Chawla, have not been played many matches between them and is not possible to judge their performances on the basis of these numbers.
It is fair to say that in the current crop of spinners, there is no particular player who stands out and can be selected to back up and challenge R. Ashwin for a slot in the playing Test XI. With the Ranji Trophy losing its importance slowly and steadily, spinners are being recruited on the basis of their IPL performances. It is not a fair indicator of a player's ability in a Test, but due to lack of other options, it is understandable why the IPL is considered as the primary talent pool. The selection of Harbhajan shows that we lack depth in talent and that our domestic competitions such as the Ranji Trophy are continuously declining in quality and pedigree. With no youngster standing out, it is easy to see why the selectors turned to a veteran like Bhajji, hoping that he can carry on his good form for the IPL and reignite his career. All the best to him!