The Curious Case of Sergio Ramos
Published 06/28/2015, 1:37 PM EDT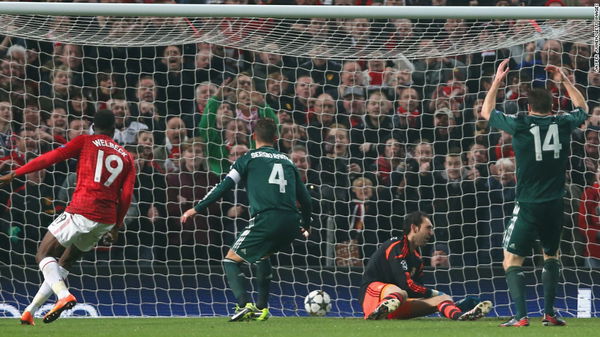 ---
---
The world would be such a great place to live in if everyone said the truth, if no one tried to be selfish and if football players, their agents and clubs did not create a fiasco of transfer deals every summer.
ADVERTISEMENT
Article continues below this ad
Every summer tends to bring a new saga. It's been happening for decades now when a certain player takes over the whole transfer window by storm. Sometimes, it just fades away with the player staying at the club he was playing at but sometimes the player does move, causing disbelief to many fans. Loyalty and love for the club is put to question while fans feelings and patience is put to test.
It was going all nice and smooth as David de Gea was the one who was the hot news of the summer until he was overtaken by his compatriot, Sergio Ramos. It's hard to believe the reports which say 'Ramos is unhappy at Real Madrid'. One would wonder why would a Spanish football player be unhappy at a Spanish club who bought him as a teenager, where he is adored by his fans, where he is respected by the players and where he has won everything any professional football player would want to win. While playing most of his career as a right back for club and country, the former Sevilla defender transformed into one of the best centre backs in the world and has even been deployed as a defensive midfielder.
ADVERTISEMENT
Article continues below this ad
Let's just stick to Real Madrid for now. He's won 3 La Liga titles, 2 Spanish Cups, 2 Spanish Super Cups, 1 Club World Cup, 1 Super Cup and of course, that Decima, Real Madrid's 10th and his 1st UEFA Champions League. All that, so why leave?
Reports in Spain that Ramos is not a happy man. The 29-year-old feels the club has not rewarded him enough for his services to the club. The player feels he's underpaid while those who joined the club after him are paid handsomely. Ramos' salary currently stands somewhere between €5 million and €6 million while Cristiano Ronaldo earns somewhere around  €50 million. Gareth Bale is also believed to be roughly on the same package. Besides wages, Ramos is upset that the club let his contract run down in its final 2 years which is something Perez is not known for if he values the player.
ADVERTISEMENT
Article continues below this ad
Real Madrid have taken some strong decisions, most of which were unpopular among fans. Selling Angel di Maria was one of them. The Argentine was one of the most influential players in Real Madrid's pursuit of the La Decima crown. The 2014 Champions League final Man of The Match was however thought to be supplementary and was sold to Manchester United for £59.7million. Even Xabi Alonso, who was also very popular among the madridistas was sold to Bayern Munich for £3.5million.
So, if Real Madrid do sell their star defender, I would be confused between whether I should be shocked or whether laughing about the fact that after all it's Real Madrid who can do anything. They sacked manager Vicente del Bosque just days after he won the Champions League in 2002. Most recently, they sacked manager Carlo Ancelotti who made their long dream of  La Decima  possible. So, a certain Sergio Ramos will be sold if what the papers say are true.
Ramos has reportedly asked the Madrid club to listen any concrete offers for him, especially from Manchester United. Florentino Perez, however has asked the player not to take any rash decisions and to restart talks after the player has returned from the US, where he is currently on holiday.
ADVERTISEMENT
Article continues below this ad
Manchester United are wary that the player may use them to get a better contract at Real Madrid but the club is relaxed about the situation. Club sources have told that they will not be bullied by Real Madrid authorities and have David de Gea as a bargaining tool. Moreover, it is believed that  Manchester United's pursuit of Ramos may shoot David de Gea's price, even though the time left on his contract says otherwise. They're even ready to allow De Gea leave for free as he would be worth much more in terms of revenue generated by playing him in the Champions League than by selling him for a knockdown fee.
Seems like the ball is in Manchester United's court now, or in footballing terms, in Real Madrid's six yard box with Manchester United on the verge of scoring.