Djokovic vs Wawrinka: The final act at Flushing Meadows
Published 09/11/2016, 3:51 AM EDT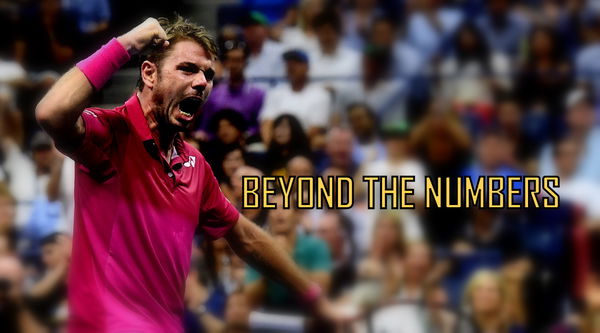 It's down to the last two. After 13 days of action, grunts, disappointments, walkovers, retirements and contrasting emotions, it'd all come down to Novak Djokovic and Stanislas Wawrinka on Sunday afternoon, at the Arthur Ashe Stadium. And if these two heavyweights- one looking to be the greatest ever and the other looking to put an end to the Big 4 saga- could produce a classic, it would somehow make up for an otherwise average Grand Slam.
ADVERTISEMENT
Article continues below this ad
Novak Djokovic has had it easy, playing just 3 full matches on his way to the final. He has looked rusty at times, thanks to that wrist of his; the tennis fraternity looks divided on whether the lack of on court time and tough matches would go against him or not. By the looks of it, this has only helped him in recovering well from that injury that raised questions over his title defense. That wrist has neither been tested nor being exploited and may just well be fit enough for the final stretch. One thing that champions do well- raise their game when it matters the most – and the Serbinator is the best big match player of this decade.
Speaking of champions, Stan Wawrinka is one himself too. The man who delayed Rafa Nadal's quest for 14 slams and made Djokovic wait another year to complete his career slam, is enjoying the best patch of his career. Having rightly earned his spot in the finals, he has better odds of winning this one when he steps on the court than he did in Melbourne and Paris.
ADVERTISEMENT
Article continues below this ad
Djokovic will head into Sunday's final with an overwhelming head to head record of 19-4. The last five meetings at majors between these two tell a different story. Djokovic does lead 3-2 here too, but his 3 wins have come in hard, grueling 5 set finishes and only one of those five matches have ended in four sets- the latest one in Paris that put the French Open title on Stan's resume.
The Serbian bageled the Swiss in the last set they played in their rivalry. But it's much more than these numbers, much more than what meets the eye. And certainly 19-4 will fall by the wayside heading into this one.
The world number one has every shot in his arsenal and every plan for what Stan throws at him and to be fair, we know what Stan would be doing this time around too. His backhand swept Novak aside on the red crushed bricks last year and that has pretty much been his game plan against the Serb. If executed well, there's nothing anyone could really do to stop him. But what if it does not deliver? Can Stan be patient and wait for errors to come from across the net? Which to be honest, don't come often, not from the Serbian machine. What separates a 12 time major champion from a two time winner is the variety of plans they carry along with their rackets on court. If the backhand doesn't fire, the Swiss can be in for a very long and hard time.
ADVERTISEMENT
Article continues below this ad
The match is expected to be another physical slugfest, a supreme athlete taking on a powerhouse. For most part of it, we could see Novak defending balls and bloody hell, no one does it better than him. Though, yet to look like his world-beating self, it won't take him much time to peak again and he'd need every bit of his flexible frame to function properly if he looks to add to his legacy on Sunday.
Things that favor Stan is that he's no longer intimidated by the big stages. He has been here before, is on a 10-0 streak in finals and is a big match player. The Swiss has played some high calibre tennis, outlasting the likes of Kei Nishikori and Juan Martin del Potro on his way to the third major final of his career. If you were to place your bet purely considering current form, you'd be a fool to bet against Wawrinka.
Wawrinka has logged 17 hours, 54 minutes on court while Djokovic has spent just eight hours, 58 minutes on court. Will the Stanimal run out of steam? We shall find out in a matter of hours.
ADVERTISEMENT
Article continues below this ad
The defending champion is turning on the heat at Roger's GS record and would replicate the tennis legend if he defends the title, Federer being the last one to do so in 2008. Stan the man would love to finish off what his friend Federer failed to do last year at the same stage. Expect nothing short of fireworks. STAN IN FOUR. However, if it does go the distance, Novak Djokovic will be the last man standing- for the thirteenth time in his illustrious career!