The Story of Why Sebastian Vettel Names His F1 Cars
Published 01/05/2020, 7:29 AM EST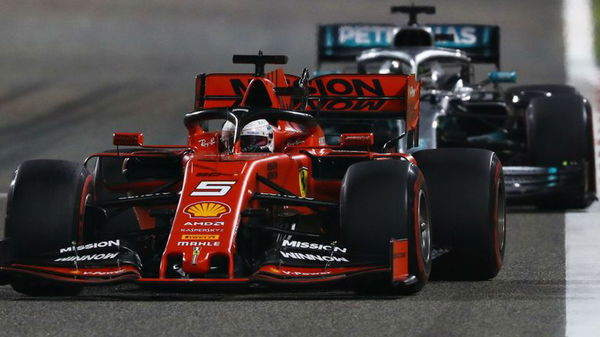 ---
---
Throughout his Formula One career, Sebastian Vettel has cultivated a habit of naming his cars when it gets released. It is his way of treating his car as more than just a machine, and it shows that he cares for it as if it was his own child.
ADVERTISEMENT
Article continues below this ad
Why does Sebastian Vettel give his cars a female name?
He always uses female names for each car because it attaches a bit more emotion to it. He believes that the car is 'beautiful', so it would be strange to give the car a male-oriented name.
ADVERTISEMENT
Article continues below this ad
Then, in a press conference during his early Ferrari days, he admitted that though he names the cars, he does not go as far as to 'stroke it when he comes and when he leaves'. Instead, he thinks that it is more fun to give the car a bit more character and he was also 'happy to share it with other men'.
The Sebastian Vettel car-naming tradition began in 2008 in his first full season in Formula One with  Toro Rosso. It is also interesting to note that nearly every car apart from the 2014 Red Bull and the 2016 Ferrari, has had at least one race win. In other words, Margherita and Suzie have never reached the chequered flag first.
List of names for all of Vettel's F1 cars
2008 Toro Rosso STR3: Julie
2009 Red Bull RB5: Kate, Kate's Dirty Sister
2010 Red Bull RB6: Luscious Liz, Randy Mandy
2011 Red Bull RB7: Kinky Kylie
2012 Red Bull RB8: Abbey
2013 Red Bull RB9: Hungry Heidi
2014 Red Bull RB10: Suzie
2015 Ferrari SF15-T: Eva
2016 Ferrari SF16- H: Margherita
ADVERTISEMENT
Article continues below this ad
2017 Ferrari SF70-H: Gina
2018 Ferrari SF71H: Loria
ADVERTISEMENT
Article continues below this ad
All said and done, it will be interesting to see what name he will use to christen the 2020 Scuderia Ferrari and how many wins he will be able to garner with the Lean Lina.