This half of the draw has seen all the tumbles and falls, with none of the second or third seeds making it to even the 4th Round.
Radwańska making it to the semifinal is not a surprise because she has been in the picture for a while now, playing good tennis on a consistent basis, and this is her third Wimbledon semifinal in 4 years. But the 21-year-old Garbiñe Muguruza, from Spain, is here completely out of the blue. Before the start of the tournament, many might not have even heard her name before, but she has quietly been crawling up the WTA ladder, after coming on to the scene a couple of years ago. Into the Top 20 for the first time in her career, the 20th seed has had a very impressive tournament so far, having defeated 10th seed Angelique Kerber, 5th seed Caroline Wozniacki and 15th seed Timea Bacsinszky to reach this stage.
To brief you a little about her, she reached the Round of 16 in this year's as well as last year's Australian Open and the Quarterfinals at the 2014 and 2015 French Open, which included the highlight of her career when she knocked out Serena Williams in last year's French Open. This is by far the best result of her career so far, and who knows, she might just become a household name by the end of the fortnight.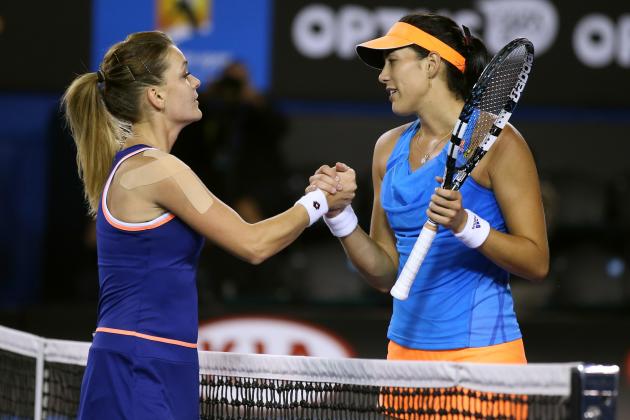 Head-to-head, Radwańska and Muguruza have played 4 times (never on grass), and both have won twice, Muguruza winning in the last 2 meetings. Talking playing styles, Radwańska has a very patient and defence-centric style of play. With Radwańska, it's as if her only aim is to return every ball played at her. She does not have a heavy-hitting type of style. She's attained good results with her solid defence, her ability to pick up balls from any corner of the court, and most of all, her unique ability to zero out on unforced errors.
Expect lots of long rallies in this match, because Radwanska tends to enjoy playing the cat-and-mouse game, simply tossing balls back to her opponent until they commit unforced errors or do something stupid. With Radwańska, you never lose to her, you lose to yourself.
Muguruza is high on confidence, with big wins behind her. But she will have to alter her game to tackle Radwańska, who will tend to annoy her with balls that skid and float here and there. This will be a good match to watch, but I am inclined towards Radwańska winning this because of her experience of playing on this big a stage. For Muguruza, as if it isn't enough to be coping with the pressure of playing in a Wimbledon semifinal in front of a packed house for the first time, it would also be frustrating to play Radwańska in a big match because of the reasons just pointed out.
As columnist Jeremy Eckstein has very wittily phrased, for Muguruza, it would be as if "she suddenly had to drink coffee with a fork" against Radwańska.
My Prediction: Radwańska wins in 3 sets! 7-5, 3-6, 6-3