The Woes Continue For Red Bull's Pierre Gasly Following Ordinary Austrian Drive
Published 07/02/2019, 12:25 AM EDT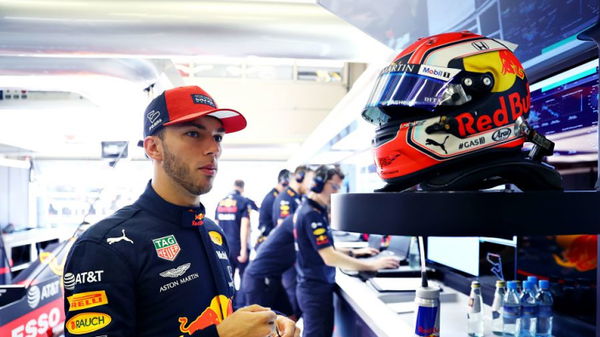 He may not have the flair of his teammate and may certainly not boast of the same zeal as the more expressive and cheery Max Verstappen, but does that mean that Pierre Gasly is up to no good? Well, while the answer to this critical question can best come from those who've noted Pierre Gasly's performances- thus far- from close quarters, it certainly appears that he's not set his maiden year at Red Bull exactly on fire.
ADVERTISEMENT
Article continues below this ad
Not for the first time has Pierre Gasly earned the wrath of his team. Following a disappointing French Grand Prix- the home race for the Frenchman- wherein Gasly finished on tenth, a lackadaisical drive at Austria hasn't really earned him love from Red Bull.
At the recently-concluded Austrian Grand Prix, 23-year-old Pierre Gasly was able to manage only a seventh, given the RB 15 was a pretty solid machine all weekend.
ADVERTISEMENT
Article continues below this ad
Moreover, that his more experienced Red Bull teammate went on to win the Grand Prix, despite having a disastrous start meant that Gasly's drive at Spielberg was certainly going to fetch not the best remarks from close quarters.
At Spielberg, Gasly's troubles, it could be said, began on Saturday's qualifying run wherein during Q3 he ran down in eighth following a mistake and then, had to face a slow Max Verstappen up in front. But on Sunday, one had expected the Frenchman to deliver a strong race at the Red Bull Ring, something which didn't exactly transpire.
ADVERTISEMENT
Article continues below this ad
Given where Max finished in the end, his commendable charge through the field notwithstanding, it was only normal that Gasly copped up criticism. On his Austrian efforts, he had to say the following:
I struggled with the traffic at the beginning and spent quite a lot of time there," he said.
"It kinda was a snowball effect with the time we spent behind, the hotter everything gets and just struggled with that, struggled to get past Kimi [Raikkonen] and the cars around.
ADVERTISEMENT
Article continues below this ad
"After the pit stop, I pushed too hard and destroyed the front tyres after the first few laps.
"And after that, just struggled with blistering. It wasn't the best management on my side, so it makes the afternoon quite tough."