"There Is a Difference"- H3H3 Defends HasanAbi After Netizens Called Him Out for His Hypocrisy With His Recent Splurge on a Luxury Mansion
Published 08/21/2021, 7:26 AM EDT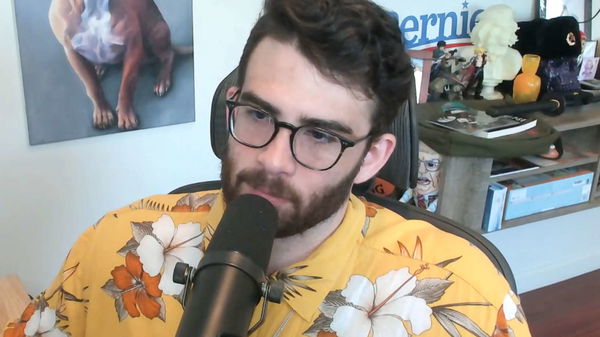 ---
---
Most streamers on Twitch livestream content revolving around video games, IRL vlogging and many more. But, Hasan "HasanAbi" Piker's content seem to be quite different from the ones regular fans of the platform know about. His content usually involves a lot of political commentary and discussions about social issues that plague the world.
ADVERTISEMENT
Article continues below this ad
The American streamer has a lot of views that favor the left wing, and he claims to be a socialist as well. This has caused his recent purchase of a mansion to gain a lot of criticism from netizens around the world. However, fellow content creator Ethan "H3H3" Klein defended his friend's recent splurge on a sprawling house.
Yall really think Hasan shouldnt be able to own a nice house and also champion for the poor and underprivileged? There is a difference between making millions on twitch and paying 50% in taxes, and Jeff Bezos being worth 150 billion and paying no taxes. Happy hasan is crushing it

— Ethan Klein (@h3h3productions) August 20, 2021
ADVERTISEMENT
Article continues below this ad
Netizens criticize HasanAbi for buying an expensive house
HasanAbi recently announced on Twitter about his recent purchase of a mansion in West Hollywood. Reportedly, the house has five bedrooms and five and half bedrooms in the one of the most popular places in the state of California. The 3,800 square foot mansion has cost him around $3 million. This has caused him to find himself in the ire of the public.
HasanAbi's purchase has caused a massive rage among fans of his content for his "unethical" decision. Many believe that he shouldn't be preaching ideas about socialism if he splurges his wealth on mansions. Fans have termed his decision to be hypocritical after he berated the billionaires for increasing the income disparity.
ADVERTISEMENT
Article continues below this ad
H3H3 comes to the rescue
During the discourse on Twitter about Hasan's mansion, H3H3 hopped in to give his views on the subject. He stated that he was happy for his fellow creator after purchasing a sprawling mansion in West Hollywood. He then went after all the people who criticized his purchase, and called them out for considering his friend to be a hypocrite.
H3H3 then lashed out on them and said that people shouldn't have a problem with HasanAbi for buying a house like this, while also championing the underprivileged. He then stated that people shouldn't compare him to billionaires as even though Hasan has earned millions, he still pays a lot of tax.
ADVERTISEMENT
Article continues below this ad
In the end, it seems like people on Twitter will continue to hate HasanAbi's decision to buy a house in Hollywood. However, creators like H3H3 have congratulated him for his success, and it seems like Hasan's views and ideologies won't change anytime soon.
WATCH THIS STORY: Top-Selling PlayStation, Xbox, and Nintendo Consoles of All Time
Trending Stories