Dominic Thiem Beats Rafael Nadal: Best of Twitter Reactions
Published 05/11/2018, 1:41 PM EDT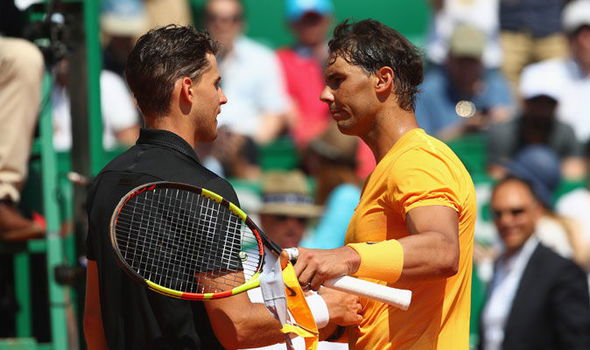 ---
---
It's done. Rafael Nadal has finally been beaten. After being unbeaten in clay for 50 sets and 21 matches, someone has finally beaten Rafael Nadal at his favorite clay surface. And who better than Dominic Thiem, who even Uncle Toni believed could be the one to beat Nadal. He won 7-5,6-3 to finish the match in two sets itself.
ADVERTISEMENT
Article continues below this ad
Rafael Nadal had seemed invincible the entire tournament. He lost 5 games in a set only once, wrapping up others in 4 games or less. He won the Barcelona Open and the Monte Carlo Masters in comfortable style. He was in a run of a lifetime. Of course, only until today.
Today he encountered the wall of Dominic Thiem, the person seeded #3 in the tournament, and very well considered the best in man in clay amongst the playing players, after Nadal. In their match today, the third round of Madrid Open, Nadal lost the first set initially 7-5, despite saving a couple of set points before. In the second set, he could never get going. He was initially broken 2-1, but managed to take a game back to level at 3-3. He was beaten again at 4-3 and finally at 6-3 to end his unbeaten run.
ADVERTISEMENT
Article continues below this ad
This is how Twitter reacted to Nadal's loss:
This guy can beat Nadal in French open and I am not even kidding outplayed him in each and every department.

— purve (@manishpurve01) May 11, 2018
Roger Federer didn't exactly have to work up a sweat to become World No.1 again.

Rafael Nadal inexplicably lost two sets in a row on clay at the #MadridOpen, after managing 50 undefeated, to gift the top spot back to the 36-year-old. pic.twitter.com/FhGnook8eZ

— BetVictor (@BetVictor) May 11, 2018
@bgtennisnation Federer regains #1 ranking briefly, from what I understand? And Nadal can regain with a win in Rome?

— Brian Hunter (@atlhunt47) May 11, 2018
That Only Dominic Thiem could stop Nadal on clay is common knowledge.. Christened PRINCE OF CLAY for a reason..few days rest for Nadal ahead of the Rome masters.

— Emperor Chris (@Chris_tianCC) May 11, 2018
Thiem wins, it reminds me of his last win against Nadal last year…after that, Thiem was completely beaten in RG.
Nadal and Thiem are likely to face each other in Rome this year as well. Hmm…

— 井蛙堂 (@seiadoumogera) May 11, 2018
I'm so upset Nadal lost today. He's still the best ever and I hope he wins Rome next week and Roland Garros again. @RafaelNadal you are still the best. Train hard the rest of the week and get it back in Rome!

— Tariq (@tariq4816) May 11, 2018
Theim is d man 🤘🤘🤘 .. Nadal will cum back hard

— VarunR (@varun333k) May 11, 2018
Nadal lost on clay. Can you believe it???😲😲😲

— Slimsem (@SlimSEM_) May 11, 2018
ADVERTISEMENT
Article continues below this ad
ADVERTISEMENT
Article continues below this ad
He lost to Dominic Thiem last year as well, at the Italian Open. It was his only defeat the entire clay court season. Being the reigning champion of the Madrid Masters, Nadal will no longer remain the World number 1 and pass the baton to Roger Federer who will only rely on Nadal losing the Italian Open in order to clinch on to the position a bit longer.
Dominic Thiem becomes the youngest player to beat Rafael Nadal on clay – a stat that both Nadal and Thiem can be proud of. Nadal will be looking to revenge his loss in next week's Italian Open and further clinch back the number 1 spot from Roger Federer.