"Thing of Beauty": Novak Djokovic Unboxes Special Gift After Breaking Roger Federer's Record
Published 03/16/2021, 11:30 AM EDT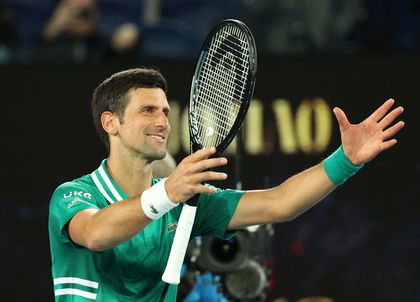 ---
---
World No.1 Novak Djokovic can proudly say he is the owner of one of the most prestigious records in tennis history. A few weeks back he broke Roger Federer's long-standing record of 310 weeks at the number one ranking and is now looking ahead to stretch his lead. His partners and sponsors have congratulated him and have celebrated differently.
ADVERTISEMENT
Article continues below this ad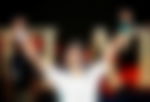 Djokovic's shoe sponsors ASICS have released a special shoe to celebrate and remember the amazing feat. As Djokovic broke the record by completing 311 weeks at the top, the shoe features a subtle indication of that. Djokovic was the first to unbox the shoe and couldn't hide his admiration for it.
ADVERTISEMENT
Article continues below this ad
"Special delivery. That is a thing of beauty," Djokovic said.
The shoes are an exclusive edition in the series of 'Court FF Novak' and have the primary color of blue with red inserts and laces.
Asics tweeted: "A special #COURTFFNOVAK shoe for a special occasion for your 311 week milestone – congratulations @Djokernole ! Every time you step on the court we hope you feel our support on your feet."
'311': Novak Djokovic receives a gift from his apparel sponsors, Lacoste
Djokovic's apparel partner, Lacoste, had launched a special polo t-shirt with the moniker '311' in gold. The CEO of Lacoste, Thierry Guilbert, congratulated Djokovic for the achievement on Twitter with the t-shirt.
"We are proud to celebrate fantastic Novak's achievement with the creation of this dedicated and unique @Lacoste 311 polo."
Djokovic quickly donned the t-shirt as he thanked his apparel partners and the fans for the incredible achievement.
"This is your (fans') success as much as it's mine. I am very proud to wear this polo that realizes the special milestone that was recently achieved. I am really proud to be a part of the Lacoste family," Djokovic said.
ADVERTISEMENT
Article continues below this ad
These records drive Novak Djokovic forward, and surely he isn't stopping here. Although the next mark of 400 weeks seems far away, Djokovic can certainly do it. The Serb is still playing his best tennis and now certainly has an array of records he could pursue to break or create.
ADVERTISEMENT
Article continues below this ad