Third title is Lewis Hamilton's American dream
Published 10/21/2015, 10:23 AM EDT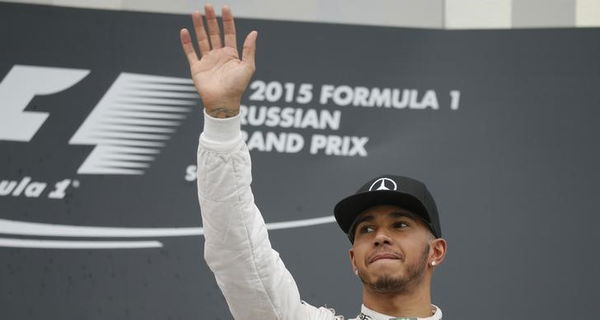 ---
---
AUSTIN, Texas (Reuters) – Lewis Hamilton can live his own American dream by becoming a triple Formula One world champion in Texas on Sunday.
ADVERTISEMENT
Article continues below this ad
If the Briton scores two points more than Mercedes team mate Nico Rosberg, and nine more than Ferrari's Sebastian Vettel, at the Circuit of the Americas then it is game over with three races to spare.
A Mercedes one-two, with Hamilton winning, would see to that.
ADVERTISEMENT
Article continues below this ad
No British driver has ever won two Formula One titles in a row, despite the country providing more world champions than any other nation, but Hamilton looks set to make history in a country he considers home from home.
The 30-year-old would join Jackie Stewart, now 76, as Britain's only three times champions but it is another great — Brazil's late triple title winner Ayrton Senna — that he most wants to emulate.
"I didn't grow up watching Jackie, when I was a kid, I wanted to see Ayrton," Hamilton, who until recently raced with a similar yellow helmet to Senna's, told British reporters after victory in Russia 10 days ago put the title within reach.
"I don't have that connection with Jackie as I did with Ayrton. It has nothing to do with nationality, just that's the guy who caught my eye as a kid and that's the guy I aspired to be," he said.
"I haven't aspired to be like any of the other drivers."
DOUBLE DOUBLE
If Brazil, next month, might have been a more symbolic place to secure the title then the United States is perfect in other respects.
Hamilton has a holiday home in Colorado and is a frequent visitor, as celebrity websites and his social media accounts bear witness, to both the east and west coasts of a country that is also his employer's biggest market.
With Mercedes wrapping up the constructors' title in Russia for the second year in a row, Sunday could see the 'double double' sealed in style.
The country's race has been good to Hamilton, who is chasing a literal hat-trick after winning two of the three grands prix held so far in Austin and three of the last four in the United States.
"If I can come away with a third (winner's) Stetson hat that would be unbelievable," he said.
Rosberg, despite the mathematical odds against him, will be determined to keep his team mate waiting at least until Formula One makes its return to Mexico next week.
With only three wins to Hamilton's nine, and Vettel's three, he needs to regain momentum after retirement in Sochi pushed him down to third overall in the championship behind Ferrari's four times champion.
ADVERTISEMENT
Article continues below this ad
"It's clear that the title is a long shot for me now. But it's not in me to give up or back down, so I'll be pushing flat out to the end and hopefully having some fun out there in the final few rounds this year," said Rosberg.
"Austin is definitely somewhere that you can have fun too…I got pole there last year, and I'm coming off the back of a really strong weekend in Russia in terms of my performance, so if I can repeat all of that then I'll be in a good position."
For local fans there will be the novelty of a U.S. driver to cheer, the first since 2007, even if Californian Alexander Rossi is more likely to be lapped in the Manor Marussia than playing any part in the championship outcome.
ADVERTISEMENT
Article continues below this ad
The starting grid will have two more cars than last year, a race that went ahead amid rumbles of a potential boycott after absent Marussia and now-defunct Caterham went into administration.
(Reporting by Alan Baldwin, editing by Patrick Johnston)