Throwback: Nadal's 2013 French Open victory
Published 04/17/2017, 7:00 AM EDT
By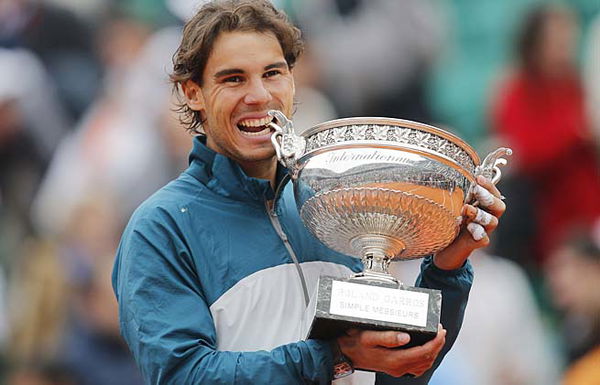 The big story of the summer of 2013 was the unanticipated resurgence of Rafael Nadal, clay court master, longtime rival to Roger Federer and arguably the most tenacious competitor in any sport. His game has been described by Andre Agassi's former coach Brad Gilbert as "an education in pain". Quite rightly so, since the Spaniard has always demonstrated an uncanny ability to pounce back when almost everyone, (except himself) thought that his illustrious but injury plagued career was about to come to an end. But, time and again the Mallorcan has defied all odds to regain his rightful position at the top of the men's game.
ADVERTISEMENT
Article continues below this ad
While these heroics don't come out as a big surprise when one talks of Nadal, his victory at the 2013 French Open stands out among all other comebacks, perhaps because it was least expected at that time, with Djokovic at his prime and sweeping nearly every tournament coming his way. Add to that a seven month long hiatus from the circuit owing to knee injury, and even Nadal's most ardent fans were beginning to show signs of skepticism. But apparently Nadal is free from such thoughts and emotions and once again his grit and athleticism proved to be too much for even the best in the business.
Nadal's seven months of rehabilitation from knee tendinitis and a torn patella tendon made for an anxious and difficult time during which he must have tried not to dwell on the possibility that he might never again play at a high level. He returned to the game in February 2013, looking apprehensive even as he reached the final in the first tournament he entered. But he lost to Horacio Zeballos, an Argentine journeyman ranked No. 73 who, early in the day, had tweeted that he was about to play a match against "God" and, by sundown, had pulled off an upset that shocked everyone but Nadal.
ADVERTISEMENT
Article continues below this ad
However, this was the only minor hiccup in his extra-ordinary run through to Rolland Garros. The statistics he amassed after a seven month lay-off are absolutely mind-boggling. He won 37 matches, made the finals of all eight events he competed in, won six titles and earned  nearly $4 million in just four months. What was most impressive was the quality of the wins. He won three Masters Series titles on two different surfaces and defeated nine Top 10 players. That is in itself a great achievement for most players, but for Nadal, that was just shaking off the rust. For him, the past few months were, in theory, just  a warm-up. The whole point of coming back in February for the small clay tournaments was to be in peak shape for the French Open as he strived for his record-setting eighth victory at Roland Garros.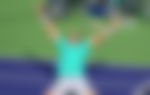 The kind of form Nadal was in, they could have very well engraved his name on the trophy  even before the first ball was played. The King of Clay was just getting started. After gutting out an epic semifinal win over No. 1 player in the world and top rival Novak Djokovic, Nadal easily dispatched David Ferrer in the men's final, winning in straight sets, 6-3, 6-2, 6-3. Upon winning the match point, Nadal fell to the ground, overcome with emotion.  His rain-soaked victory over Ferrer was Nadal's record 59th win in 60 matches at the French Open and made him the only man with eight titles at any Grand Slam tournament till then.
"Rafael was better than me," said Ferrer, who had won all 18 sets he'd played the past two weeks to reach his first Grand Slam final at age 31. "He didn't make mistakes."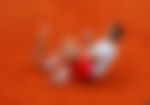 "I never like to compare years, but it's true that this year means something very special for me," Nadal said, alluding to the way he managed to come back from a left knee injury that sidelined him for about seven months.
"When you have a period of time like I had," he added, "you realize that you don't know if you will have the chance to be back here with this trophy another time."
Yet he was doing it, year after year. He won four French Opens in a row from 2005-08, and another four in a row from 2010-13.
A week past his 27th birthday, Nadal now held 12 major trophies in all — including two from Wimbledon, one each from the U.S. Open and Australian Open.
"For me, it's incredible," said Toni Nadal, Rafael's uncle and coach. "When I think of all that Rafael has done, I don't understand it."
What is even more astonishing is the fact that Rafa did not just stop at the French Open, he went on to clinch the US Open title as well, finishing the year as World number 1.
ADVERTISEMENT
Article continues below this ad
Part of the reason behind Rafael Nadal's remarkable comeback from his injury in 2013 is due to his incredible discipline on the court. Many players (including pro players) have struggled to comeback from injuries, due to the staggering physical and mental drawbacks that are involved with having to take time off from the game.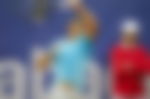 Recovering from injuries requires the utmost care and the ability to perform a highly disciplined rehabilitation routine. It is a process that cannot be rushed, and is often a frustrating time for any athlete. Nadal's successful comeback could very well  be attributed to his positive mindset and well as his willingness to put in the work required to return to full strength.
ADVERTISEMENT
Article continues below this ad
While Nadal has always had a strong fighting spirit, he knew that 2013 was a critical turning point for him. Nadal knew that if he wanted to be a top notch competitor once again, he had to prove it by successfully overcoming his knee injury. And that is exactly what he did.
Players around the world can learn from Nadal's intensity and positivity regardless of the situation. Not only is Rafa a champion competitor, but he is also a great role model for tennis players at all  levels of the game.