Throwback: When NBA Legend Played as Center and Coached The Boston Celtics
Published 07/15/2020, 5:30 PM EDT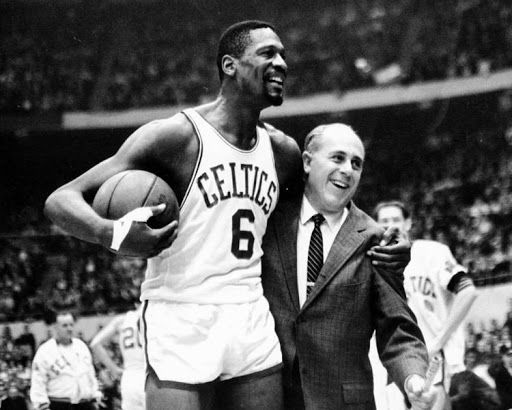 ---
---
Bill Russell is undoubtedly the most accomplished NBA player to step onto the court. He won 11 NBA titles in the span of 13 years for the Boston Celtics, a feat no modern team can even hope to replicate. Russell was so dominant that the Finals MVP trophy was created as a tribute to him. However, he owes a lot of his success to legendary coach Red Auerbach.
ADVERTISEMENT
Article continues below this ad
Auerbach coached the Boston Celtics to 9 championships. After retiring as a coach and becoming a front office executive, Auerbach added 7 more titles to his name. This led him to win 16 NBA Championships in the 29 years he spent as a member of the league. The NBA Coach of the Year trophy is named after Auerbach. Apart from just winning titles, Auerbach also became the man to give Bill Russell his first job as a coach.
Boston Celtics Under Bill Russell
ADVERTISEMENT
Article continues below this ad
ADVERTISEMENT
Article continues below this ad
Russell became one of the first NBA players to coach a team while still being a player. He was on the hot-seat for 3 years and won two NBA Championships in that time. After Auerbach's retirement, Russell had to be the one to devise a game plan to stop Philadelphia 76ers big man Wilt Chamberlain. Wilt spoiled the Celtics decade long domination of the NBA by defeating them 4-1 in the Eastern Conference Finals in 1966.
However, the C's didn't stay down for long. They would win the title next year, defeating Philly in the Conference Finals in a game 7. Russell won his first ring as a player-coach by taking down the Jerry West-led LA Lakers.
ADVERTISEMENT
Article continues below this ad
He won another title in his third year as a coach. Russell defeated the LA Lakers in a 7 game series to win the 1968 NBA Championship. Russell would abruptly retire after this season, puzzling media and fans in Boston. Without a coach and a high-quality center, the Celtics failed to make the playoffs, ending a 28-year playoff streak. Despite Russell's acrimonious exit from Boston, he is still one of their greatest and most successful players.
Russell had a record of 162 wins and 83 losses in his three years as coach. He would return with the Seattle SuperSonics and had a few unremarkable years there.