THROWBACK: When Novak Djokovic Played Like a Drunk Person
Published 03/05/2020, 4:21 PM EST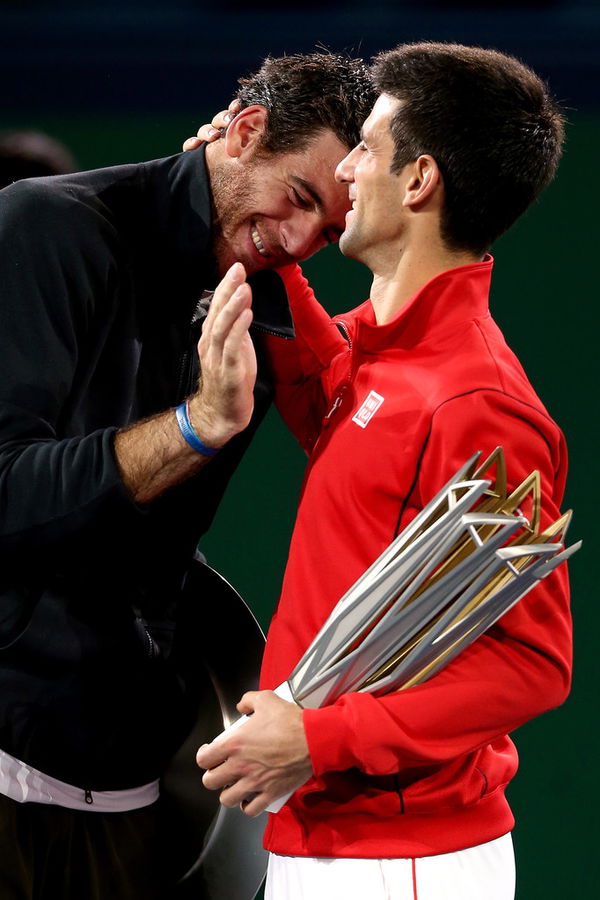 ---
---
The final of the 2013 Shanghai Rolex Masters was quite an eventful one. Novak Djokovic played Juan Martin del Potro for the title in a very exciting match. Djokovic won the clash and defended his title from the previous year.
ADVERTISEMENT
Article continues below this ad
After a great start to the match, Novak stumbled, and not just figuratively, to let Del Potro back in it.
The final of the Masters 1000 event was quite a spectacle for the fans. Djokovic came out firing on all cylinders as he rushed to a 6-1 lead in the match. It looked like the Serb was about to make short work of Del Potro. However, Juan Martin managed to get back on level terms, with a little help from Novak's "intoxication."
ADVERTISEMENT
Article continues below this ad
Novak Djokovic stumbles
ADVERTISEMENT
Article continues below this ad
Nole started to lose his footing while hitting the ball. As you can imagine, it is quite difficult to strike the ball when you aren't balanced on your feet.
No, he wasn't actually drunk, it just looked like he was. For some mysterious reason, Djokovic lost his sense of footing in the second set. The Serb started to lose balance during rallies. Consequently, he could not strike the ball cleanly.
It was quite a comedic sight to behold. Novak, though, wasn't amused by it. On one point, he landed awkwardly on his foot and had to convulse to avoid any serious damage to his foot. He was just as baffled as the rest of us with his footing.

Del Potro, a mercurial talent himself, took his chance to pounce back and win the set 6-3. The duo played some scintillating tennis in the third and final set. The Argentine did manage to save two match points while serving to stay in the match at 4-5 in the third. He forced a tie-break, but it was utterly dominated by Novak Djokovic.
ADVERTISEMENT
Article continues below this ad
The Serb had banished his comical footwork long back by that time. He won the match 6-1, 3-6, 7-6(3).
It was a match full of quality and incredible rallies. As it often is when these two meet, the groundstrokes on the night were absolutely sublime. A perfect end to the tournament and Djokovic gave us a bit of a laugh along with it.