Time for Eccentric Tech Talk With OfflineTV's Quirky Michael Reeves Set to Appear on Twitch's CodeMiko Channel
Published 04/26/2021, 8:04 AM EDT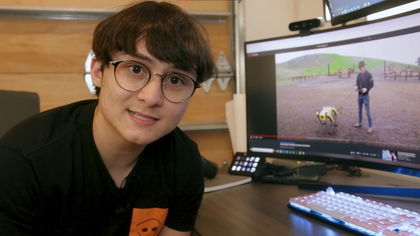 ---
---
Two of internet's quirkiest characters will finally meet for the first time, and it sure promises to be a blast. Popular virtual streamer CodeMiko revealed on Twitter that she will interview OfflineTV engineering genius, Michael Reeves.
ADVERTISEMENT
Article continues below this ad
Fans can stream it on her channel on Twitch at 2:30 PM PST.
ADVERTISEMENT
Article continues below this ad
Michael Reeves and CodeMiko, two of the most eccentric creators
Fans can expect to see a lot of hilarious moments between two of the most famous content creators on the planet. Michael Reeves is the beating heart of the popular streaming supergroup, OfflineTV.
While the others in his crew are mainly streamers that play video games, Michael's expertise lies in engineering. He has created countless projects with innovative ideas that revolve around science with an added element of fun.
While Michael is an engineering genius, CodeMiko is one of the most popular streamers on Twitch. Miko is a virtual character that uses the highly popular Unreal Engine to broadcast her stream live with no delays.
She has done countless interviews with various creators like Jacksepticeye, Ludwig and many more. Recently, she even got banned from the platform after accidentally sharing the email address of a person live on stream.

What to expect from the interview?
Fans can expect a lot from the interview because of the amount of technology that both creators are involved in. They might see instances of Michael trying to understand the workings of Miko's setup that allows her to stream with absolutely no delay at all.
ADVERTISEMENT
Article continues below this ad
Other than that, they can also expect to see more details about his latest project, which was the Pissbot 9000. He created the beer-pissing Boston Dynamics robot after he was denied the robot by the company behind it.
Miko and Micheal also talk about the recently held OfflineTV Valorant Charity Invitational, where the latter was almost humbled by everyone. Along with that, fans also might get to know about Micheal's relationship with fellow streamer, LilyPichu with some interesting tidbits and stories of them ever since they got together.
The interview promises to be a fun and hilarious conversation between two of the most eccentric characters on the internet currently and fans should definitely not miss it.
ADVERTISEMENT
Article continues below this ad