TimTheTatman Suffers Fall Damage Even While Playing Valorant
Published 02/11/2021, 8:51 AM EST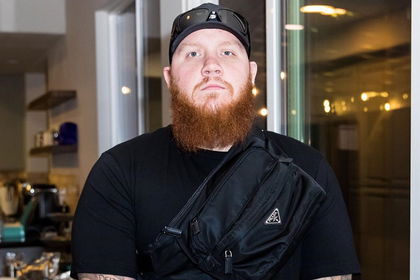 ---
---
Let's take a trip down memory lane to the days TimTheTatman played Fortnite with Ninja and DrLupo. Tim falling and taking damage, or even dying, was a running joke among the squad. It was almost like Tim and fall damage was a match made in heaven.
ADVERTISEMENT
Article continues below this ad
It has been quite some time since Tim and the gang played Fortnite. However, their newfound interest is in Riot's FPS game, Valorant. It is also a game where TimTheTatman can avoid fall damage since there is none in Valorant. At least one would think this is what happens.

ADVERTISEMENT
Article continues below this ad
Valorant reaction has TimTheTatman rolling on the ground
According to a recent tweet by Tim, he just can't escape fall damage. The Twitch streamer was playing Valorant, and he died to a Sova. Tim started waving his hands in the air, pretending to defend himself. However, the popular streamer lost balance and fell off his chair live on stream.
While it might be embarrassing for many, Tim turned it around into a hilarious joke owning the fall. He stayed on the floor laughing for a good few seconds before exclaiming, "my fat ass man, uhhh."
It seems like Tim can play all the games without fall damage to avoid it; however, it will come back to bite him in the behind in real life.
Tim's friend share a laugh with him
TimTheTatman's shared a clip of his fall, and just like every good friend, the streamer's buddies came to have a laugh at his expense. 100 Thieves Owner and CEO Nadeshot, FaZe Content Creator Nickmercs, and 100T Tommey were among those who shared a laugh with Tim.
ADVERTISEMENT
Article continues below this ad
A few fans also edited his moves before the fall into hilarious clips.
ADVERTISEMENT
Article continues below this ad
The incident made for a wonderful time for both streamers and fans, with Tim leading the front. His talent for creating amazing content online is one of the biggest reasons for his popularity. It only makes sense that he was one of the biggest Twitch streamers during his Fortnite days. Hopefully, TimTheTatman finds similar success playing other games such as Valorant.