Here's What the Tokyo Olympics 2020 Medals Look Like
Published 07/20/2021, 1:12 PM EDT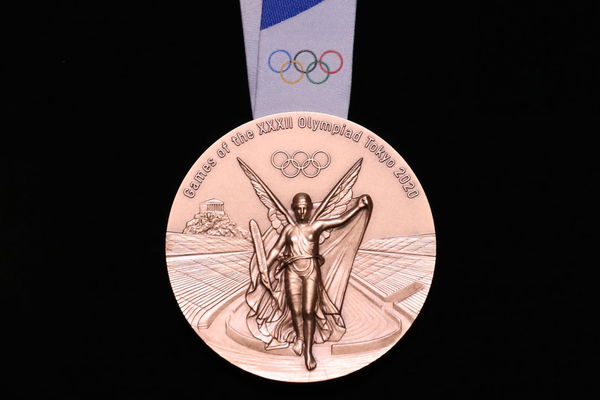 ---
---
The Tokyo Olympics 2020 is set to commence soon. Ahead of the world's largest sports meet, we take a look at the medals for the Olympics.
ADVERTISEMENT
Article continues below this ad
The concept of all the prizes is mostly based on the idea that to achieve greatness, an athlete must go through a daily grind. The overall themes of the medals are 'Light' and 'Brilliance'.
The athletes take part from various parts of the world. They go through a lifetime of hard work to achieve their positions. Not only that, the diverse culture of the Olympic games also is a strong symbolism of the friendship and bonding of the participants from all over the world. All of those are kept in consideration while designing the elusive honor, i.e. an Olympic medal.
ADVERTISEMENT
Article continues below this ad
A competition was held on by Tokyo 2020 to have a pool of options to choose from while designing the medals. The basics were set by the International Olympic Committee, which outlined the primary stipulations of what had to be included in the medals.
The five-ring symbol of the Olympics was a no-brainer. The name of the event, i.e. XXXII Olympiad Tokyo 2020, in this case also was a subject of mandatory incorporation. And Nike, the Greek goddess of victory, in front of Panathinaikos was also a must-include depiction to the medals.
Another intriguing fact about the prized designs is that they are made of recycled consumer electronics. A total of 78, 985 tons of metal extracted from discarded electronics goods have been used for the project.
Not only are those premium pieces a stunning creation, but they are also eco-friendly at the same time as well.
Tokyo Olympics 2020: Timeline
ADVERTISEMENT
Article continues below this ad
The Olympics opening ceremony is set to take place on 23rd July. The venue for the event is the Olympic stadium in Tokyo. The formal opening of the world's largest sporting event is set to be conducted by emperor Naruhito.
The impact of COVID-19 is prominent at the Olympic games too. Every notable gathering has had to be re-adjusted keeping coronavirus protocols in mind, in recent times.
ADVERTISEMENT
Article continues below this ad
And the Olympic Games in Tokyo are no exception to that rule. Nevertheless, ardent sports lovers are buzzed for the event, to say the least.