Russian Fencer Leaves on Wheelchairs After Heroic Display To Secure Gold Medal for Her Country at Tokyo Olympics 2020
Published 07/29/2021, 3:14 PM EDT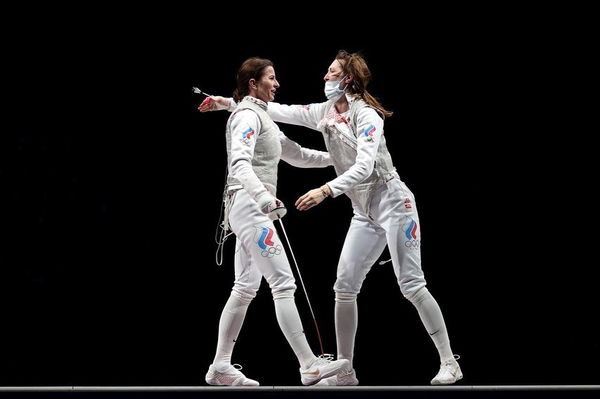 ---
---
Marta Martyanova, a Russian fencer, earned the gold medal for her country. She put up a valiant effort in a bid to do so. The 22-year-old initially came in as a replacement for her teammate, Adelina Zagidullina. However, she injured her ankle during the first match of her campaign.
ADVERTISEMENT
Article continues below this ad
She got her ankle wrapped and competed in 3 more matches. She drew one, was defeated in one, and won the other to secure the gold medal for her country. Marta was helped by her teammate Zagidullina as she tried to celebrate while literally having one leg to support her.
ADVERTISEMENT
Article continues below this ad
She was able to walk on one leg to the wheelchair and literally collapsed on top of it in tears. There was no more strength to endure the pain. She couldn't step on her injured leg anymore. She fought in this condition in the final half an hour ago. If Marta hadn't continued, our team would have been removed from the tournament, since there were no more substitutions," a statement released by the Russian Olympic team said. (h/t RT Sport)
"There are no words and epithets to pay tribute to her heroism. This requires unconditional nationwide recognition and a deep bow at her feet… This is the Olympics. This is victory. And these are our fantastic girls! There are no others like them in the world!" they further added.
Marta Martyanova just did something remarkable
ADVERTISEMENT
Article continues below this ad
Despite being injured, Marta couldn't be substituted as the Olympics prohibit reverse substitutions. Despite her injury, she showed true willpower with her work. Marta certainly made the Russians proud at the Olympics. The reception she received from her teammates told the entire story.
ADVERTISEMENT
Article continues below this ad
In what was a noble gesture of sportsmanship, her teammates actually carried her. Right from Yusra Mardini, to Marta, the Olympics have already seen some fascinating storylines. Also, we haven't even reached the halfway point of the Games. Now, it remains to be seen what more inspirational storylines the Tokyo Olympics 2020 bring forth.
On that note, as Russia defeated France in the finals of fencing to secure their gold medal, Marta and her team can expect a grand welcome upon reaching home.