Equestrian Riders Complain About Tokyo Olympics 2020 Life-Size Sumo Wrestler Statue- Say It Will 'Spook' Their Horses
Published 08/05/2021, 6:45 AM EDT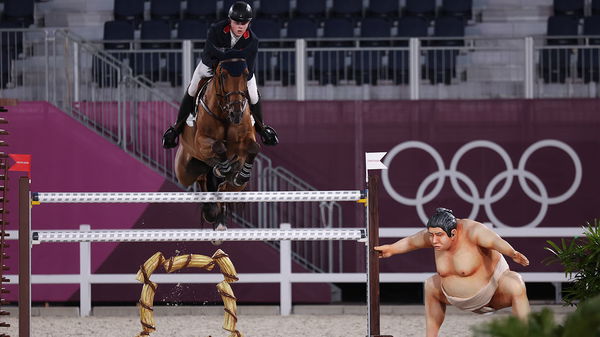 ---
---
The organizers have decorated the showjumping arena at the Tokyo Olympics 2020 with a Japanese theme. Each fence that the riders have to jump is decorated with a piece of artwork that represents Japanese culture.
ADVERTISEMENT
Article continues below this ad
They dedicated one fence to Tokyo's skyline; they dedicated another to the Japanese crane creature. In Japanese culture, the creature brings good luck, longevity, and fidelity. However, there's an installation on the 10th fence that is spooking horses.
Life-size Sumo statue at the Tokyo Olympics 2020 Equestrian events
ADVERTISEMENT
Article continues below this ad
At the 10th fence in the arena, there's a life-size sumo statue that is spooking the horses. The riders have complained to the organizers that the horses are getting spooked by the installation.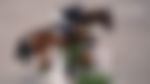 Great Britain's Harry Charles said that he noticed a few horses getting spooked by the statue. Israel's Teddy Vlock said: "It is very realistic. It does look like a person, and that's a little spooky. You know, horses don't want to see a guy, like, looking intense next to a jump, looking like he's ready to fight you."
Harry Charles may himself like to blame the artwork for his performance on Wednesday. His horse Romeo 88 failed to clear four fences, forcing him to retire before the end of the first round.
Riders also complained about the Cherry Blossoms on the other side of the obstacle as a potential deterrent. Many riders hit rock bottom on this corner of the course, which is probably why they're raising these complaints.
Some riders did, however, appreciate the artwork. Scott Brash, Harry Charles' teammate, appreciated the course's artwork. "You know it's going to be colorful coming here. You know it's going to be decorative. And it's beautiful, you know?"
"It's fantastic. That's what makes it a championship. If it was just plain old jumps, it'd be just like any other week."
Show Jumping results at the Tokyo Olympics 2020
The decorative artwork on the fences did not faze Great Britain's Ben Maher. The 38-year-old won gold in the Individual show jumping event. He defended Nick Skelton MBE's gold medal from Rio 2016 and brought the gold back to Britain.
ADVERTISEMENT
Article continues below this ad
He opted to go last in the first round and ended up third. In a dramatic jump-off, he posted a time of 37.85 seconds, which was just seventeenth hundredths of a second faster than the Silver Medalist.
ADVERTISEMENT
Article continues below this ad
Sweden's Peder Fredricson won the Silver medal, with the bronze medal going to Maikel van der Vleuten of the Netherlands.