Statue Removed from the Tokyo Olympics 2020 Equestrian Arena as it Potentially Spooks Horses
Published 08/07/2021, 8:23 AM EDT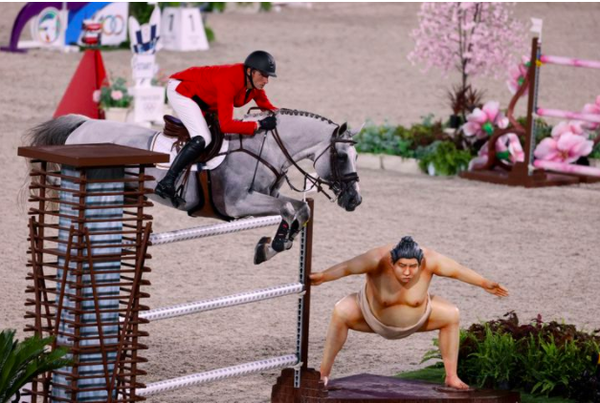 ---
---
The Tokyo Olympics 2020 have not been devoid of drama and controversies. Ranging from world records getting broken to ejections of coaches and participants; these Olympics have truly become a public spectacle of constant engagement. One such incident took place at the Tokyo Equestrian Park. A sumo wrestler statue became the center of the riders' attention, as it potentially spooked their horses during the jumping event.
ADVERTISEMENT
Article continues below this ad
Sumo Wrestler statue spooking horses at Tokyo Olympics 2020
The riders were worried about the statue and a surrounding area of cherry bushes. They thought it would startle the animals during the solo jumping event. Therefore, they were changed before the start of the competition on Friday. Subsequently, several media houses described it as a 'Nightmare' for the animals.
ADVERTISEMENT
Article continues below this ad
Night-mare: Riders say a life-size sumo wrestler positioned next to an obstacle on the Olympic equestrian course may have distracted several horses in qualifying for the individual jumping final. A few pairings pulled up short of the barrier. https://t.co/g2JoviXoet #odd

— AP Oddities (@AP_Oddities) August 4, 2021
The Designer's Opinion on the Statue
Officials claim sumo wrestler designer Santiago Varela planned to remove the rikishi before riders complained that the life-size rikishi was unsettling their animals. It allegedly became the cause for several early stage pairings in the individual qualifiers to come to a halt.
Whereas Varela told The Associated Press that he was confident the wrestler was not to blame for multiple refusals at the 10th barrier. "I think this is an artificial discussion. I believe that someone goes to the media to say things that aren't true, directly and simply. Horses have jumped very well in the arena," he said.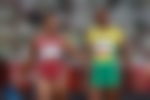 However, there were several competing interpretations why horses were having problems at that stretch of the course. Wherein some speculated that the stadium lights or surrounding sakura (cherry blossoms) were to blame. In order to ensure that the rikishi replica would not startle the horses, the riders themselves had to take some measures.
ADVERTISEMENT
Article continues below this ad
Terry Vlock of Israel and Darragh Kenny of Ireland made it a point to take their horses to the 10th jump before their runs. They did this after seeing other riders encounter problems. This allowed the animals to get familiar with the hurdle rather than be fearful of it.   
ADVERTISEMENT
Article continues below this ad
"It does look like a person, and that's a little spooky," Vlock said. "You know, horses don't want to see a guy, like, looking intense next to a jump, looking like he's ready to fight you."