"Do the Horses Get Medals Too?"- Snoop Dogg and Kevin Hart Commentate On Equestrian Riding At Tokyo Olympics In A Hilarious Video
Published 08/02/2021, 11:46 AM EDT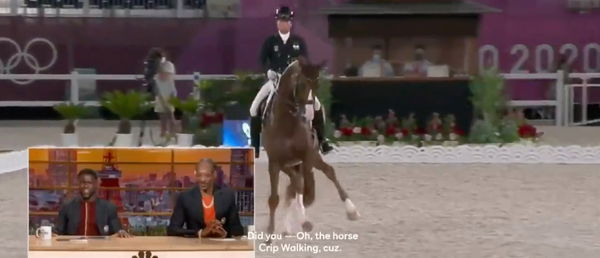 Tokyo Olympics 2020, definitely have the funniest commentators- Snoop Dogg and Kevin Hart!
The idea of making them the commentators for the Summer Games 2020 has indeed been hilarious.
The duo added a new segment called "Cold Call" to the July 30 episode of their show, Olympic Highlights. They hilariously added commentary to footage from the delayed 2020 Summer Games' streaming service Peacock. They had been interviewing athletes, recapping events, and, most notably, doing play-by-play for sports they don't understand.
ADVERTISEMENT
Article continues below this ad
Since its debut, fans on Twitter have been living for it!
WATCH STORY– Snoop Dogg Was Overjoyed When He Saw A 'Horse Crip Walkin' While Analyzing Equestrian With Kevin Hart
Before the first (and hopefully not last) "Cold Call," Hart explained what it was all about. "The producers have pulled some clips from the Olympics and we don't know what sport it is or what event it has to do with," the comedian said. "Well, watch it and we'll call it like we see it." 
The two proceeded to do just that, and they had a lot to say — especially when it came to the dressage competition. "Horses. I like this. This is equestrian," Snoop started. Then he got even more excited about it.
Snoop Dogg and Kevin Hart are a riot while commentating on Tokyo Olympics 2020
"The horse crip-walking! You see that? That's sick," Snoop Dogg joyfully announced as a horse pranced during the event. "This horse is off the chain! I gotta get this mother****er in a video."
Peacock has Snoop & Kevin Hart doing uncensored Olympic highlights and the equestrian bit "oh, the horse crip walking cuh… you see that?" 💀 pic.twitter.com/beCaJhAIpI

— CJ Fogler #BlackLivesMatter (@cjzero) July 31, 2021
ADVERTISEMENT
Article continues below this ad
Post the highlights, the duo wondered aloud how the horses got to Japan. They also discussed how they got onto the luxurious Emirates airline, while all the athletes flew Southwest.
During the Olympics Equestrian event featuring Bruce Springsteen's daughter Jessica and her horse Don Juan van de Donkhoeve on August 2, Snoop Dogg asked a pertinent question, "Do the horses get medals when they win too?" (Unfortunately, they do not.)
ADVERTISEMENT
Article continues below this ad
"I demand for a horse to get the respect that they deserve and the same bragging rights as the jockey," Hart added. "You don't think a horse want to brag? I want to brag too, b**ch, look at what I got. Get back to the stall and look at all your naked-neck a**es. They got nothing! Look at me over here, shinin' on y'all."
Earlier in the week, Snoop Dogg and Hart analyzed the U.S. men's basketball team's stunning tournament-opening loss to France as well as interviewed the viral oily Tongan flagbearer Pita Taufatofua, with minutes spent on the pronunciation of that athlete's last name.