US Women's Track and Field Star Raven Saunders goes into 'Joker mode' at Tokyo Olympics 2020
Published 07/31/2021, 6:00 AM EDT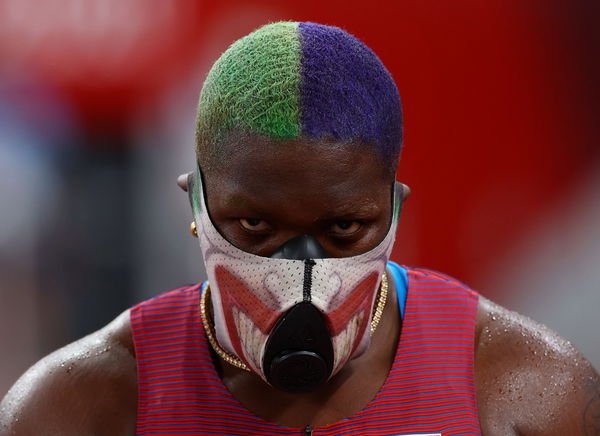 ---
---
Ever since time immemorial, sports athletes and fashion have always gone hand in hand. Be it for taking a stand against social norms and stigmas, or for making a statement about individual liberation, these two industries have always been interdependent.
ADVERTISEMENT
Article continues below this ad
Therefore, it is hard not to notice the terrific fashion statements made by athletes at the Tokyo Olympics. These have been ranging right from representing the ethnicity of their country in the opening ceremony, to a plethora of non-conventional outfits that represent their individual sense of liberation.
Raven Saunders makes a fashion statement at the shot put event
ADVERTISEMENT
Article continues below this ad
Raven Saunders, competing in the women's shot put qualifying round, made heads turn with her new 'Joker'esque outfit. Saunders showed her increased confidence in the shot-put qualifying round on Friday. Furthermore, she combined that confidence with a bold new drip. Saunders, also known as the Hulk, wore a big face mask to imitate the Joker, complete with purple and green hair.
Saunders finished fifth in the shot put event during the 2016 Rio Olympics. She will now have her eyes set on the podium.
Fans know Saunders for both her fierce concentration and her sense of panache when competing. She has regularly exchanged handshakes and hugs with her competitors during contests. However, this is normally done after they have completed it.
"I'm like literally the greatest person," Saunders said. "But during competitions, I don't like anybody."
"One of my things is like, everyone during the shot put, and I don't know why people are always smiling and talking. That's not really me," Saunders continued. "This is my way of, being friendly I guess?"
Previous experiences and stress concerns
ADVERTISEMENT
Article continues below this ad
Saunders recently opened up about the delight she felt at the 2016 Olympics, as well as the deep depression and stress she had in the years following. Her therapist and a visit to a mental health center were important in her recovery and return to sports.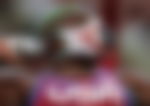 It is extremely satisfying to see that the world of sports has now grown to be much more open-minded. Athletes like Saunders show us that it is important to retain one's individual sense of self while maintaining professional integrity.
ADVERTISEMENT
Article continues below this ad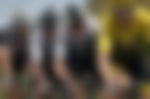 Sources say that she plans to wear something even more extravagant than this outfit in the upcoming final on Saturday at 9:35 pm ET. We can't wait to see what it is!