Ryan Crouser Breaks His Own Shot Put Olympic Record – Then Poses With a Sign Thanking His Late Grandpa
Published 08/05/2021, 6:12 AM EDT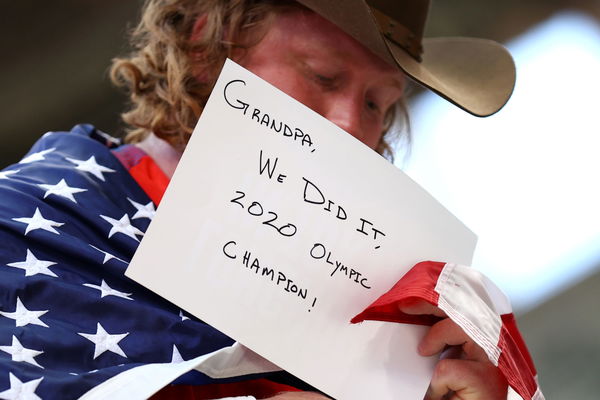 ---
---
Ryan Crouser just broke his own Olympic Record three times in the finals of the Men's shot put event. He became the first American athlete to win gold in a track and field event at the Tokyo Olympics 2020.
ADVERTISEMENT
Article continues below this ad
The 28-year-old reigning Olympic champion just defended his title. This is the first time an American has done this since Parry O'Brien in 1952 and 1956. After he won the gold, he was a little emotional and had a message for a close family member.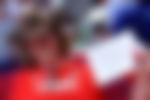 Record-Breaking Shot put final for Ryan Crouser
ADVERTISEMENT
Article continues below this ad
The American walked into the circle for his first attempt, as calm as you'd like. It seemed like he was practicing and not competing in the most competitive tournament in the world. He picked the shot put up, did his routine, and just like that, he registered an Olympic Record on his first attempt. 
He threw an impressive 74 feet and 11 inches, breaking his former Olympic record, which he set in 2016 at Rio. His previous Olympic record stood at 73 feet and 2 ¾ inches. In his second attempt, he broke the record that he had just set a few minutes ago. He threw a massive 75 feet and 2 ¾ inches. 
If that wasn't impressive enough, Ryan Crouser used his 6′ 7″ frame and 319 pounds to toss the ball for yet another Olympic Record. The competition was practically over after his second throw. However, his last throw (76 feet and 3 ½ inches) just showcased his dominance.
An emotional message from Crouser
After winning the gold, an emotional Ryan Crouser donned his cowboy hat and held up a sign that read, "Grandpa. We did it. 2020 Olympic Champion!". 
After Ryan Crouser won gold in men's shot put he pulled out a sign for his grandfather which read, "Grandpa, we did it!"

His sign was in tribute to his late grandfather who got him into the sport. pic.twitter.com/Az8rA7nBqd

— Peacock (@peacockTV) August 5, 2021
ADVERTISEMENT
Article continues below this ad
"I held up a sign at the end and that was for my grandpa," Crouser said. "He passed away just over a week ago. … He's been my biggest fan."
"He's had a huge role in my throwing career. To lose him a week before the Olympics was obviously sad, but I feel like he was able to be here in spirit," Crouser said.
ADVERTISEMENT
Article continues below this ad
Crouser will go down in history as one of the most dominant Shot put athletes America has produced.