"I'm Going to Inspire So Many People" – Shot Put Silver Medalist Raven Saunders Has No Regrets After Breaking the No Demonstrations Rule of the IOC
Published 08/02/2021, 6:15 AM EDT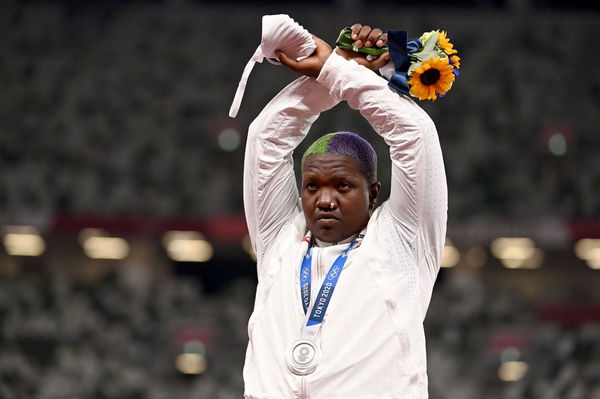 ---
---
American athlete Raven Saunders broke the IOC's Olympic charter against demonstrations. After winning the silver medal in the women's shot put, she raised her hands above her head in an X. It is unclear whether the IOC will take any action as of now.
ADVERTISEMENT
Article continues below this ad
Earlier this year the IOC added to their Rule 50, advising athletes against any forms of demonstrations or expressions on the podium and during competition. The rule prohibits any political, racial, and religious propaganda along with demonstrations.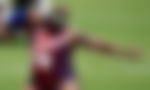 ADVERTISEMENT
Article continues below this ad
Raven Saunders' demonstration
As the Women's shot put medalists stood on the podium to pose with their medals, the 25-year-old held her hands up above her head in the shape of an X. When asked about it later in an interview she said, "The X represents the intersection of where all oppressed people meet."
She spoke to reporters, choking up during an interview while explaining how much this medal means to her. Saunders has been struggling financially and mentally for the past few years. She said she wanted to use her position to inspire other oppressed people.
"Everything I've been through these past five years has been crazy," Saunders said. "I remember so many times sitting in my car, crying, not knowing how I was gonna pay my bills. Not knowing if I was going to be healthy, but I gave it everything I had."
The South Carolina native is openly gay and has always stood up for the LGBTQ community "I feel amazing, because I know I'm going to inspire so many people," Saunders said. "About to inspire so many young girls, so many young boys, so many LGBTQ people, people who have battled suicide. So many people would have almost given up…it's not, it's not just about me."
The IOC's rule against demonstrations
ADVERTISEMENT
Article continues below this ad
Rule 50 of the Olympic charter was first introduced in 1975 to keep the games neutral and not add the elements of race, religion, or politics. They have refined and rewritten the rule over the years. Most recently, before the start of the Tokyo Olympics, they added to the rule.
The International Olympic Committee is looking into American Raven Saunders' demonstration on the shot put medal stand Sunday. IOC spokesman Mark Adams said Monday morning that the IOC is "in contact" with the U.S. Olympic and Paralympic Committee on the matter. Stay tuned.

— Christine Brennan (@cbrennansports) August 2, 2021
ADVERTISEMENT
Article continues below this ad
The Olympic Committee advised athletes against any sort of demonstrations. The fans and athletes did not receive this well as people felt it suppressed athlete expression. We will have to wait and watch to see if the IOC takes any action against the American.