"I Knew the Americans Were Gonna Push Me"- Canadian Andre de Grasse Finally Wins an Olympic Gold in the 200m at the Tokyo Olympics
Published 08/04/2021, 12:22 PM EDT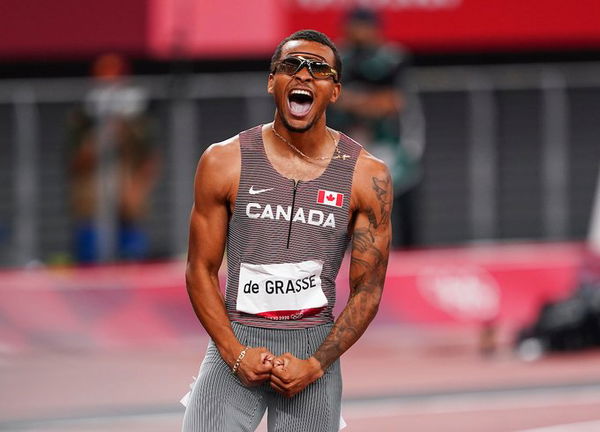 ---
---
Andre De Grasse finally won his long-awaited gold medal at Olympics. The Canadian has always wandered in the shadows of Usain Bolt and American sprinters. He would always finish 2nd or third in the 100 and 200m track events. 
ADVERTISEMENT
Article continues below this ad
The gold has been a long time coming for the five-time Olympic medalist. For a long time, we knew the Canadian as the man that almost beat Usain Bolt in a 200m heat at the Rio Olympics. That moment of Bolt and De Grasse smiling at each other mid-race has since gone viral.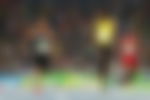 Olympic Gold for Andre De Grasse 
ADVERTISEMENT
Article continues below this ad
Canadian star sprinter Andre De Grasse finally won his Olympic gold medal, setting a national record of 19.62. The Canadian was disappointed after winning bronze in the 100m sprint just a few days earlier. He's also the first Canadian to win Olympic gold in the men's 200m in the Olympics since Percy Williams in 1928.
"I went back after the 100 and I was a little bit disappointed in myself, that I could have done better," De Grasse said Wednesday. "I said, 'I gotta go and get this 200, I gotta go and get it.'"
The American sprinters gave De Grasse a run for his money, taking the next three spots.
The American contingent included reigning World Champion Noah Lyles, and track and field prodigy, 17-year-old Erriyon Knighton. 
"I knew the Americans were going to push me and they were going to take me to a personal best," De Grasse said."It's been five years since I had a personal best, so it was just good to get that finally out the way."
Road to Olympic Gold
Andre De Grasse burst into the spotlight with a 100-meter bronze at the Worlds in 2015. He then went viral at the Rio Olympics for his mid-race smile with Usain Bolt. Since then he's had a tough road leading to his first Olympic gold at Olympics. 
ADVERTISEMENT
Article continues below this ad
De Grasse and the other sprinters didn't really have a chance at gold during Usain Bolt's terrorizing reign. Ever since Usain Bolt hung his boots up, De Grasse has been trying to get into the spotlight. His biggest problem other than Bolt has been the strong American contingent.
ADVERTISEMENT
Article continues below this ad
Specifically, Noah Lyles, who has beaten him in all five of their previous encounters. He was finally able to overcome the American sprinters and register a historic moment.