Billie Jean King and Other Tennis Legends Outraged at Authorities for Fining Norwegian Women Who Refused to Wear Bikini Bottoms at Tokyo Olympics 2020
Published 07/21/2021, 2:05 PM EDT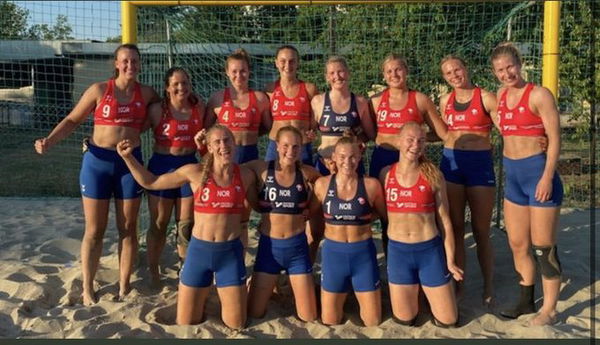 ---
---
The Disciplinary Commission of the European Handball Federation (EHF) fined the Norwegian women's beach handball team. The team wore shorts instead of bikini bottoms. This was against the rules imposed by the EHF. 
ADVERTISEMENT
Article continues below this ad
The Norwegian national team deliberately wore shorts. They feel there are a lot of problems with wearing bikini bottoms while playing the game. The EHF fined them $177 per player, which came out to a total of $1770.
Read More: VIDEO: Sha'Carri Richardson Partners With Kanye West in New Commercial Ahead of Tokyo Olympics 2020
ADVERTISEMENT
Article continues below this ad
Uniform regulations set by the European Handball Federation
Regulations for women's uniforms according to the International Handball Federation's beach handball rulebook are: Women should wear a bikini where the top should be a tight-fitting sports bra with deep openings at the arms.
The bottom must not be more than ten centimeters on the sides, the regulations say. The Norwegian team chose not to abide by these rules and wore shorts in the bronze medal match on Sunday. They finished fourth in the tournament after being eliminated by Spain.
Norwegian players defend their actions
The Norwegian Women's Beach Handball team is facing fines for wanting to wear shorts instead of bikini bottoms. The bottoms are not to cover "more than 10cm on any sides."

The men's team wears shorts.

The sexualization of women athletes must stop. https://t.co/IZEzbrE0Iw

— Billie Jean King (@BillieJeanKing) July 20, 2021
Norwegian player Katinka Haltvik spoke to the country's national broadcaster NRK. She said the decision to wear shorts was 'very spontaneous' and that the team felt 'threatened by the regulations'. 
She also said, she hopes their statement can pave the way for other teams that are uncomfortable with the uniforms. "Not all teams can afford to pay such fines," she said. 
The Herald-Sun also reported that Norwegian handball Federation president Kare Geir Lio has been raising concerns about the uniforms for years. Kare and his organization have been campaigning for changes to these regulations for years. 
French National Coach Valerie Nicolas has also publicly supported Norway's stance: She told the Norwegian newspaper Verdens Gang that the response from the EHF was unfair. "We have lost players due to the suits. The players tell me they are uncomfortable, feel naked, and watched.
ADVERTISEMENT
Article continues below this ad
"It is a sport with a lot of movement and you are hindered by the bikini. There is also discomfort associated with menstruation and not least religion."
ADVERTISEMENT
Article continues below this ad
The Norwegian team has also decided to take this stand and wear shorts even while competing at the Tokyo Olympics 2020 Former athletes such as Billie Jean King, Chris Evert, and Kim Clijsters have shown support for the Norwegian team on Twitter.