Germany Call for Immediate Rule Change in Modern Pentathlon After Tokyo Olympics Disaster
Published 08/10/2021, 1:00 AM EDT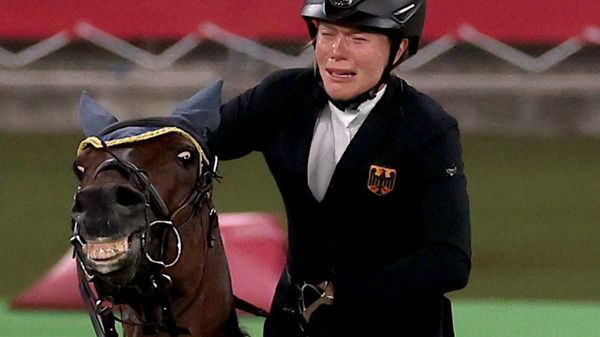 ---
---
The women's modern pentathlon event in the Tokyo Olympics provided a fair amount of spills and thrills. In a shocking turn of events, German Annika Schleu finished 31st in the show jumping leg since her horse, Saint Boy, refused to perform.
ADVERTISEMENT
Article continues below this ad
Despite leading the competition before the jumping leg, this cost Schleu her first Olympic medal. After the events that unfolded on Friday, the head of Germany's Olympic committee called for immediate rule changes to the event.
President of Germany's Olympic Sports Federation calls for rule changes to modern pentathlon
ADVERTISEMENT
Article continues below this ad
Modern pentathlon comprises five sports, namely fencing, swimming, shooting, running and show jumping. The event made its debut in 1912, and has been a part of every edition of the Olympics since then.
While equestrian sports at the Games have a show jumping discipline by itself, modern pentathlon has it as one of the five legs. The key difference, however, is that pentathletes do not get to bond with the horse as much as equestrians. Hence, they could face difficulties like Schleu did during the show jumping leg in the event on Friday, August 6.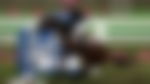 During the leg, her horse Saint Boy refused to jump. Although Schleu's coach Kim Raisner punched the horse, for which she received a ban, Saint Boy still refused to perform. Following this incident, Germany Olympic Sports Foundation's President Alfons Hörmann admitted the sport needs an immediate change in rules.
He said, "The numerous occasions at the competition yesterday, from literally the first to the last rider, are, we believe, unacceptable. They endanger animal welfare and therefore damage the reputation of the sport and the sports men and women."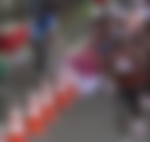 Former German Olympic medalist supports stand for a rule change after Tokyo Olympics debacle
Along with Hörmann, two-time Olympic gold medalist Ingrid Klimke believes a rule change is in order. She mentions the time given for pentathletes to acquaint themselves with the horse is quite less.
ADVERTISEMENT
Article continues below this ad
She said, "For me, trust and harmony are a fundamental part of every way of dealing with the horse. The regulations of the modern pentathlon expect horse and rider to get to know each other so well in 20 minutes that they can complete a jumping course together. In my opinion, that is not possible, at least not in a competitive situation like the Olympic Games."
ADVERTISEMENT
Article continues below this ad
While the International Modern Pentathlon Union will investigate the riding discipline, one can only wonder whether changes will be made or not.
WATCH STORY: Top 5 Heartwarming Moments at Tokyo Olympics 2020