HILARIOUS: Algerian Triple Jumper Rips His Shorts Through the Middle While Qualifying for Tokyo Olympics 2020
Published 08/04/2021, 11:00 AM EDT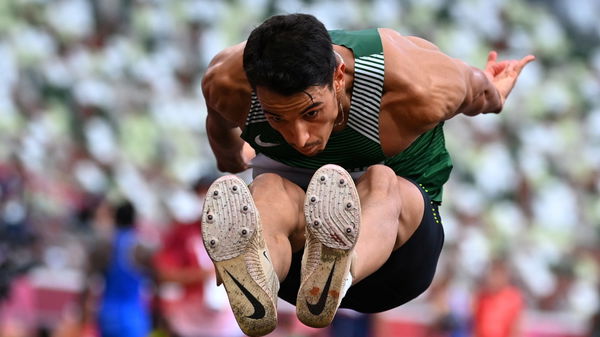 ---
---
Yesterday, track and field events at the Tokyo Olympics began with the men's triple jump qualifications. Split into two groups of 16 each, 32 athletes took to the field to secure qualification for the final. After an intense day in searing temperatures, 12 athletes made it to the final to contend for a medal.
ADVERTISEMENT
Article continues below this ad
One of those athletes was Algerian Yasser Triki. The 24-year-old put in an excellent effort in Group A to make the cut for the triple jump final. However, fans across the world ended up remembering him for a different part of his performance.
Yasser Triki loses part of his gear after triple jump attempt in Tokyo Olympics
ADVERTISEMENT
Article continues below this ad
Group B of the triple jump qualifications in Tokyo began at 9:00am local time. In a field of 16 athletes, Triki secured direct qualification after making excellent leaps one after another. In addition, he did not commit a single foul in all three of his attempts.
The 24-year-old recorded a 17.05m jump in his final attempt to secure his place in the final. However, during his final attempt, his shorts suffered a slight tear on landing in the dirt.
While many lauded his effort, this moment did not go unnoticed. In fact, one Twitter user mentioned he should wear a new pair of shorts for the final.
With his 17.05m jump, Triki finished third in the group behind Portugal's Pedro Pichardo and Turkey's Necati Er. While Er recorded his season best jump of 17.13m, Pichardo recorded a monstrous 17.71m jump to win the group.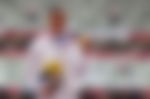 Men's triple jump final to take place on August 5
ADVERTISEMENT
Article continues below this ad
The 12 athletes who qualified for the triple jump final will compete for gold on August 5, 11:00am local time. While all 12 athletes posted competitive scores, the competition looks wide open for top honours in the Olympic Stadium.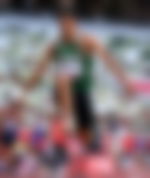 Among the final 12, only five of them rank in the Top 10. In addition, World No. 1 Christian Taylor missed the Games due to a ruptured achilles tendon just two months prior.
ADVERTISEMENT
Article continues below this ad
Triki, the World No. 9, could be in with a chance of bringing a gold medal to Algeria. However, USA's Will Claye remains the favorite to take top honors in the event. The World No. 2 scored an impressive 17.21 to stake his claim in a competitive field.
WATCH STORY: Tokyo Olympics 2020: Simone Biles Heartbreaking Withdrawal, Michael Phelps Supporting Her, Everything Else You Need to Know