Simone Biles Talks About Things That Scare Her!
Published 07/15/2021, 11:43 AM EDT

Follow Us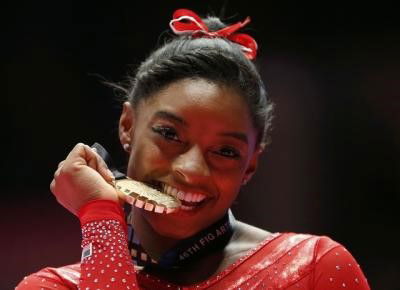 The Olympic gold medallist, Simone Biles talks about her fears. She is the most decorated gymnast in history. The young American has won a grand total of 30 Olympic and World Championship medals in her career so far. She is also renowned for performing difficult moves. So much so, that several have been named after her already!
Simone Biles talking about things that scare her!
Interestingly, Simone opened up about certain things unknown to the general audience. Highlighting. Throwing light on her source of anticipation, she claims "Fear of failure", being one of the things that are common to other athletes too! Biles also suggested that "Not being good enough" can also become a potential factor to scare off the athlete easily.
ADVERTISEMENT
Article continues below this ad
Moving forward with the interview, she addressed a question about changing herself if she had the choice to. Boldy, she said "Nothing! There is nothing I'd like to change about myself because I am who I am and I am where I am because of it."
Watch Story- Simone Biles says she thrives off of fear because feeling scared 'keeps the fun and joy in it'
Pushing her bounds to maintain her winning streak, she said, "a little bit scared… keeps the fun in it".
During Episode 2 of "Simone vs Herself," Biles said she has "an out-of-body experience" while performing her epic Yurchenko double pike vault.
Biles explains that "gymnasts' bodies are like ticking time bombs" and endorses that the year-long delay could cast her dominance into doubt, despite long being a certainty.
ADVERTISEMENT
Article continues below this ad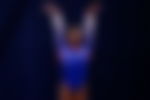 Biles is not yet ready to give up because of her fears 
The 4-feet-8 superstar gymnast has four Olympic gold medals. Simone has a record of seven US Gymnastics Championships, all-around titles, and more World Championships hardware than any other athlete in the history of the sport. She's evidently the most dominant athlete of all time in the whole sports industry.
ADVERTISEMENT
Article continues below this ad
As the reigning all-around champion, Biles is set to dominate the Olympic Games this July. But before she can complete her swan song in Japan, she'll have to perform for the US Olympic Trials at the end of this month to officially embark upon her journey in Tokyo.
Simone's participation is definite, along with her fellow gymnast teammates. But, it might to surprising to see new talents emerge and go up against the legend. Will she be able to keep up her winning streak? Stay tuned.