Why Did Former Gold Medalist Jordan Burroughs Not Qualify for Olympics?
Published 07/15/2021, 10:28 AM EDT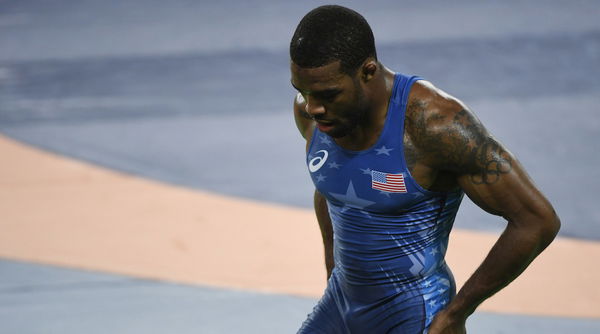 ---
---
Jordan Burroughs, the 5-time World, and Olympic Champion got swept by Kyle Dake 3-0 and 3-2 at the US Olympic trials. This stunning upset has put an end to the decade-long dominance of Jordan Burroughs in wrestling at 74kg.
ADVERTISEMENT
Article continues below this ad
Since 2011, no athlete other than Jordan Burroughs has represented the US at 74kg at any international tournament.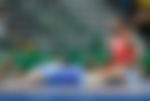 Five years ago Injuries plagued Kyle Dake, and he was ready to retire, qualifying for the Olympics marks an incredible comeback from the lowest point in his professional career.
ADVERTISEMENT
Article continues below this ad
Read More: "My Body Needs Rest": Angelique Kerber Joins Growing List of Absentees at Tokyo Olympics 2021
Sweeping Jordan Burroughs
Going into the match against Burroughs, Kyle Dake was 1-7 against the Olympic gold medalist. Dake pushed Burroughs out of bounds within the first ten seconds to earn his first point. Burroughs then tried his signature double leg takedown but to no avail. 
Dake scored two more points and held on to win the first game 3-0. In the 2nd game, Dake lost points for passivity and still went on to win 3-2. 
An American had swept Jordan Burroughs for the first time post-2011. After the match, a stunned Jordan Burroughs sat on his knees as Dake patted his shoulders and chest and spoke in his ear. 
"I just thanked him, told him I appreciated him," Dake said. "He's pushed me to levels I didn't know I had in myself." 
Kyle Dake is confident going into Tokyo 2020
The 4-time NCAA Champion feels very confident going into the Tokyo Olympics. Dake feels like he is in his prime ever since changing his fitness and workout regime after being plagued with injuries.
ADVERTISEMENT
Article continues below this ad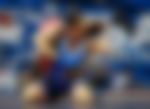 Kyle Dake beat Italy's Frank Chamizo, the bronze medalist at Rio 2016. Dake feels his regimented lifestyle and training give him an edge over all his opponents. 
He gives himself certain milestones to achieve during training before going into any competition or tournament. The shot at winning gold has been a long time coming for Kyle Dake.
ADVERTISEMENT
Article continues below this ad
How do you think the American will perform at 74kg at the Olympics? Let us know your predictions.
Trending Stories