Tom Brady Has a Critical Take On Rules Which Penalize NFL Defenses
Published 09/03/2021, 12:01 PM EDT
---
---
It is a blessing for offensive players according to the NFL rules prevalent since the past decade. Yet one prominent player believes it demeans the very nature of the sport.
ADVERTISEMENT
Article continues below this ad
In a USA TODAY discussion with the Buccaneers quarterback, Tom Brady explains how offensive players have an upper hand in the game while the defensive players are penalized for doing what they are supposed to do.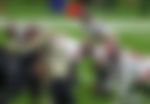 Tom Brady on the league favoring offensive players
ADVERTISEMENT
Article continues below this ad
"A quarterback should only throw the ball to certain places because your receiver is in danger of getting hit," Brady said. "For example, when I used to play against Ray Lewis, I wouldn't throw the ball to the middle of the field because he would… hit them and knock them out of the game. And now, every hard hit is a penalty on the defense. So I feel like they penalize defensive players for offensive mistakes."
Without mentioning any names, Brady takes into account the recent case of Bills linebacker Andre Smith tackling the Bears quarterback Justin Fields. According to him, it was the mistake of the quarterback not to throw the ball at the right time. Yet it was the linebacker who got penalized for tackling him down.
A "disservice to the sport"?
Brady believes that it's the responsibility of the quarterback to protect himself and his players by delivering the ball to the right spot at the right time or suffer the consequences of being tackled down. "It shouldn't be the responsibility of your opponent to protect you," Brady said as Buccaneers linebacker Lavonte David nodded along.
ADVERTISEMENT
Article continues below this ad
"It creates really bad habits for players because you feel like I can basically do anything," Brady said. "I can run and not slide. I can throw my receiver into any coverage and not have any repercussions for it. The only thing they're gonna do, they're actually gonna blame the defensive player for making a good, solid hit."
ADVERTISEMENT
Article continues below this ad
The quarterback calls it a "disservice to the sport" while having a valid point as to why the defensive players suffer penalties due to the mistake made by the offensive players for not being able to protect themselves. Yet, seeing the sports' notorious history of concussions suffered by the players, the league had to make the required changes.
This new rule came into existence after the injury suffered by Carson Palmer in 2008. Since then, the sport has favored the offensive players in an oblivious manner.