Tony Arbolino: 4 Laps from a Masterpiece
Published 05/06/2018, 11:53 AM EDT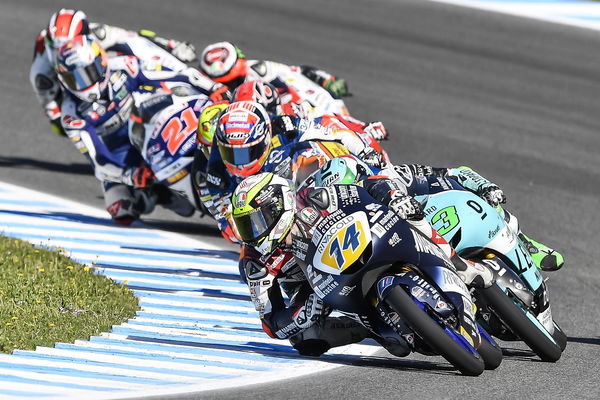 ---
---
Andalucia, Circuito de Jerez – Angel Nieto, the sun is high and the weather is great, a good weekend, with good times and a steady race pace. There were some problems in yesterday's qualifying but everything looks promising for the race.
ADVERTISEMENT
Article continues below this ad
The lights go off and Tony moves up from 21th position on the standing grid. At the end of the first lap he is running 14th and from that moment he begins his comeback…and what a comeback!!
On lap 5 Tony set his best lap time in the race, a 1'46.893, just 0.163 tenths of a second away from the fastest lap. From lap 7, the real show began, complete with braking and overtaking…third, first, second, fourth…Tony was really having fun!
ADVERTISEMENT
Article continues below this ad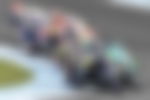 In the middle of the eighteenth lap, 4 laps from the finish, Tony was preparing to brake hard at turn 6. Unfortunately, Spanish rival Aron Canet triggered a multiple rider crash knocking out 3 riders, including Tony who was running second. He was in a prime position and ready to attack, 4 laps to the end.
A 'dream race' finished a few laps before the end, just when Tony had done a good job to recover important positions and lead a starring race.
ADVERTISEMENT
Article continues below this ad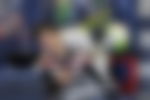 Fortunately, Catalan rider Canet did not cause serious damage in the 'strike'. Tony came out unharmed and with the knowledge of having battled with the leaders in all races…
"I'm happy….I'm happy because we've been strong for the whole weekend!
It was a shame for the qualification but I knew I could have been strong in the race, in fact, as soon as we started, I focused on my comeback and remained attached to the rider in front of me.
ADVERTISEMENT
Article continues below this ad
This race did me good, for the morale, even if you can't control what can happen behind you…but these are the races! The nice thing is that I have been in firsts positions in a lot of laps and this has definitely helped me a lot!
Before going home we go to do a test at Aragon, which will help us to understand few things, before going to Le Mans to finish this last part of the race…."