Tony Cozier, my hero and distant mentor
Published 05/18/2016, 10:47 AM EDT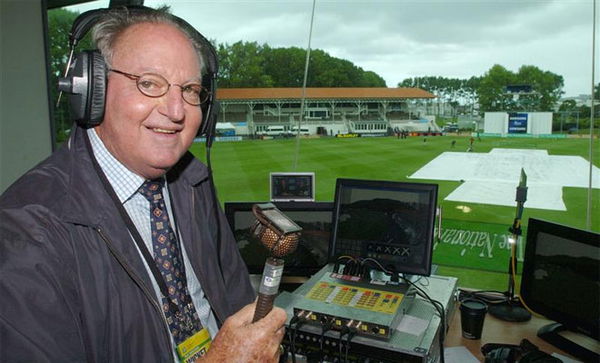 ADVERTISEMENT
Article continues below this ad
Zaheer E. Clarke pays tribute to Tony Cozier and describes the important role Cozier's work played in his ascension as an award-winning writer and commentator on sports and West Indies cricket.
Last Wednesday, when the news of Tony Cozier's passing away reverberated around the world, I was in a seminar imparting my knowledge to the next generation. These kids who will be off to university in a few months saw me as one of their heroes. For eight months or so, I'd given myself to their development and today would be my final gift to them. As I gave, one of my own heroes and the one who bestowed so much upon me and others through his spoken and written word, Tony Cozier, slipped away quietly without my knowledge, into a better world.
ADVERTISEMENT
Article continues below this ad
Every Sunday morning, I'd wake up to read the Tonys – Tony Becca and Tony Cozier – before preparing my mind for the day and week ahead. Oftentimes, I'd catch Becca's article in the wee hours of the morning before the world awoke and disrupted my peace and quiet with its crazed rush after dawn. Later in the morning, most times, during the middle of Sunday's chaos, I'd drift away for about 20 minutes to sit, read and excogitate Cozier's latest masterpiece.
Recently, without fail, Cozier's columns are regularly featured on ESPN Cricinfo's website every Sunday, and in Barbados' leading newspaper, The Nation. Last week Sunday, comparable to other Sundays, I awoke and read Becca's article and moved to ESPN Cricinfo's website, in search of Cozier's latest opinion piece.
For me, Cozier was the God of lexicon, pace and tone, and his writing scorned poor or overused phrases. Like every Sunday, I had my dictionary to the right and my phone to the left, knowing that there would be four to five new words from his article to add to my vocabulary, which perhaps, I could employ in one of my future op-ed pieces.
My algorithms were fingertips away, ready to dissect and analyze his article for its strengths – trust me, they had no weaknesses. I checked the website, but his article wasn't there. Later in the day, I checked again and then one more time after church. It never came. Perhaps he was on a well-deserved vacation, I thought.
The first call I received on Wednesday was from my friend Gurkirat, the co-founder of Essentially Sports, a major online sports publication in India, and the second was from Andre, the senior IT technician at my college. Both knew how much Cozier meant to me as a writer. Cozier was the gold standard by which I wrote and breathed West Indies cricket.
Last December, after reading one of Cozier's opinion pieces, I described him to Gurkirat as one "sweet brute of a writer". Gurkirat reminded me of that conversation on Wednesday and how I remarked that one day, one day, I'd write like Tony Cozier.
I remember the first time I wrote an article and it scored in a similar grade range to Cozier's pieces, after running it through my innumerable algorithms. I was over the moon and unsurprisingly, an award from the local Press Association followed soon thereafter.
You see, Cozier was my hero and distant mentor. He told stories with his pen and his voice, both of which effervesced his love for West Indies cricket. And if you had no love for West Indies cricket, his words would paint a lifelike pictorial that would captivate you and erupt an intrigue and curiosity, synchronic to no other. I wanted to do the same. I yearned to do the same. I wanted to be like Tony Cozier.
Men, women, boys and girls with transistor radios affixed to their ears, breathed his every word. Their eyes, like laser beams, were often seen locked onto his descriptive words, as they gathered around one of his umpteen articles that featured in newspapers throughout the Caribbean, and the world. Undeniably, Cozier loved West Indies cricket and West Indians and the world loved him for sharing that love with us all.
To be honest, I've never met the man in person, however, I read his every word. My dad grew up listening to Cozier's voice and reading his books, articles, opinions and reports – home and away – on West Indies cricket. My dad ensured I did the same.
Several individuals throughout the Caribbean, including my dad and myself, grew up knowing Cozier to be the conductor of the literary orchestra of West Indies cricket, and how well he played the crescendo and diminuendo notes of the symphonies over the years. I read so much of Cozier's work, heard numerous hours of his commentary, and saw so much of his heart poured out on the pages of several magazines, newspapers and books, that I felt like I knew the soul of the man. All us West Indians thought we did.
On Wednesday when I saw the legion of tributes from his closest friends as well as from those who never met him, I knew I wasn't the only one he mentored through his work, near or far. I wasn't the only one who knew his voice, held his words dear and carried his love for West Indies cricket in my heart.
Former England captain Michael Vaughn highlighted why so many fans and players worldwide feel in love with West Indies cricket. He remarked, "Forget all the great (West Indian) players. Tony Cozier was the reason I loved West Indian Cricket."
Two-time T20 World Cup winning captain Darren Sammy echoed the thoughts telepathically shared by all West Indians fans, "That voice will forever be in my head."
That Wednesday night, as I sat at home, distraught and devastated by his passing, I closed my eyes and looked into the heavens. I saw Sir Donald Bradman and George Headley in the middle, batting, with Malcolm Marshall running in to bowl. Several other greats were fielding and looking on from the pavilion, with the stands full of cheering diehard cricket lovers. I stood to the back of the commentary box, watching my heroes on the field and those in the commentary box – Cozier and Richie Benaud – calling the game with sublime words and passion. After 50 plus years of covering West Indies cricket, Cozier turned to me and said, "Have a seat son. You'll have to carry on with the commentary past tea."
Astonished, all I could say was, "Thanks. It'll be indeed an honour, Sir Tony. I'll do my best. See you at the close of play."
ADVERTISEMENT
Article continues below this ad
RIP Winston Anthony Lloyd Cozier.
Until next time…
Zaheer E. Clarke is a freelance sportswriter who is madly in love with West Indies cricket. His quick rise as a sportswriter is directly linked to his attempt to reach Tony Cozier's heights as a writer.
ADVERTISEMENT
Article continues below this ad
He can be reached at zaheer.clarke@gmail.com. Follow him on Facebook at Zaheer Facts, Lies & Statistics, or on Twitter at @zaheerclarke.
Original article: Tribute: Remembering Tony Cozier, my hero and distant mentor