Famous Examples of Football Bromance
Published 01/10/2018, 2:33 AM EST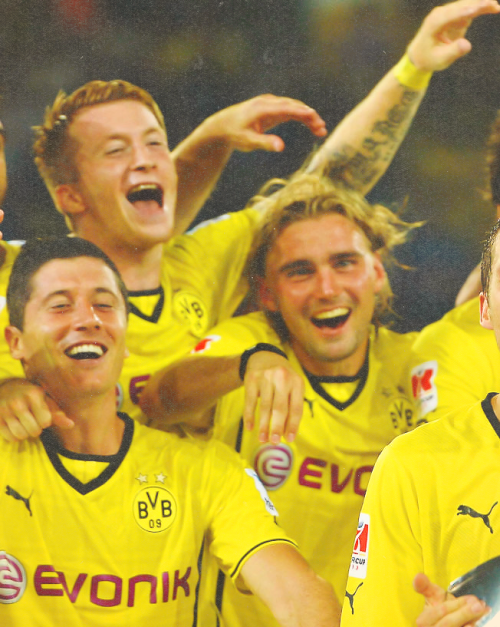 ---
---
Football requires chemistry between the players for a team to function as a whole. Overall, the team needs to be in sync with each other, so much so that they can predict where the other will be, even without seeing. If not the whole team, there certainly are quite a number of footballers who hit it off so well with each other that they became the best of pals; not just on the field, but off it too! Here is a list of the top 10 moments of football bromance in the game, which might let you sigh out a very manly awww!
ADVERTISEMENT
Article continues below this ad
10. David Alaba and Franck Ribery
Franck Ribery, 32, and David Alaba, 23, don't have a lot in common on the field. But this duo has an amazing chemistry off it. They first met while playing for the Bavarian club, joining in 2008 and 2007 respectively. It was Ribery who gave Alaba the 'Austrian Sportsman of the Year' award.
ADVERTISEMENT
Article continues below this ad
It is also said that Ribery had a major role to play in the development of the young Alaba, who has now become one of the best in the world in his position.  But their relationship grew from a mentor-pupil one to that of pure friendship over time.
9. Daniel Sturridge and Raheem Sterling
We know how Sturridge was an inseparable part of the SAS duo until Suarez left. We also know how Sturridge is the party animal, the energy of the Liverpool dressing room.
He believes that Sterling needs someone whom he can look up to, and guide him at this stage in his career. He was quoted as saying, "Me and Raheem are very close. To me, he's my little brother and I look after him and try to help him as a footballer and as a person.
"I didn't have anyone take me under their wing when I was his age, so it is important now that I understand my role, which is the big brother role. I guide him where I can."
https://www.youtube.com/watch?v=e18MmTsbx68
[tps_title]8. Cesc Fabregas and Gerard Pique[/tps_title]
These two pieces of the same puzzle add up to complete each other. They have been playing together ever since they were in La Masia, and neither of them had forgotten each other, although sea separated them for almost a decade.
But after all the time, Pique finally managed to convince the former to join him to leave the Gunners and play alongside  him for Barcelona. And so he did, back in 2009. Arsenal fans might be furious  that he chose to join Chelsea again, but that's a topic for another day.
7. Lionel Messi and Jose Manuel Pinto
Every Barcelona and Messi fan knows how much respect and admiration these two have for each other. And it's not just for the game and their playing quality, but it also has to do with their humility and lifestyle on a whole, and that's what makes them so close to each other.
They are so close that Messi wanted the Catalan club to first offer an extension to Pinto before he would even consider an extension for himself. This coming from a man who has vowed to play for Barcelona shows the extent they are willing to go for each other.
6. Zlatan Ibrahimovic and Maxwell
Mates till infinity, and beyond!
Oh, Zlatan! Behind that arrogant mask of yours, you sure are a sweet doll. He and Maxwell, his fellow French compatriot presently in Paris Saint-Germain(PSG), can't stay away from each other for long. A glance into the past decade brings us to Ajax, where both of these young fellas played together in their teens and early twenties. Fast forward to Inter Milan, Barcelona and now PSG, and these two just cant stay apart for long.
Maxwell always felt a certain brashness about Ibrahimovic. From an interview of Zlatan with the The New York Times, it was quoted-
Within days of their first meeting, Ibrahimovic asked Maxwell if he could move in with him because, "Zlatan had already spent all his signing bonus on cars and fixing his house in Sweden and did not even have anything left for food," Maxwell said. Stunned, but also a little overwhelmed, Maxwell agreed, and the two young players went through the ordeals of being newcomers together.

"We did crazier things then; we had some nights in Amsterdam, and he was wilder then," Maxwell said, "but there was always a big heart that people did not see. He got his reputation in Amsterdam, and it hasn't changed even though he has grown up. We all have."
Goes well to say, even the hardest of rocks have a soft spot.
https://www.youtube.com/watch?v=GN7idtOzC14
5. Moussa Dembele and Jan Vertonghen
These childhood buddies have trained together and played together since the age of 10 and now have reached the pinnacle of their footballing careers. Vertonghen was pleaded by Dembele to play in England ever since Dembele was playing for Fulham.
They finally played together for Tottenham Hotspurs. Although they have been regular starters for the Belgian team, they remained in touch even when they were playing in different countries for a while. They go together like Belgian Waffles and Syrup!
4. Steven Gerrard and Xabi Alonso
Let's be clear. This can very well be a one sided affair, a man-crush, you can say. But the pure respect and appreciation for the other brings it to this position in our list. They had formed an unbreakable pair while they were at the Anfield.
Steven Gerrard was quoted speaking to FourFourTwo magazine on how the sale had left him feeling. "Devastated, yeah.  Devastated. But there was nothing I could do about it. Xabi said a long time ago that he wanted another chapter in his career and finally he got it and his team-mates and the coaches couldn't stand in his way. We just have to say thanks and move forward without him."
Legends say he has still not stopped talking on how amazing Xabi was and how he is underrated. We get you, Gerrard, we really do.
3. David Beckham and Gary Neville
We will achieve greatness together!
Two glorious players. Both belong to the class of 1992. Played together right from the start, which bloomed into a typical bromance. The hotshot, the icon, the Greek god is best mates with the calm, the simple and the humble one.
"When I had my house in Bolton, David would stay when Victoria was away, and he'd make food for me all the time. Stir-fries with noodles and vegetables and pasta dishes with sauces – a lot of pasta," said Neville.
He also once said that he would always have three great friends and family rather than the circle of people around him. And no wonder, out of the three, Gary Neville was the only footballer.  And no wonder, together they have led Manchester United to its pinnacles!
Who says friendship needs to have similar matches? Look at his eyes when he speaks in the video, and you realize what they are.
2. Mesut Ozil and Sergio Ramos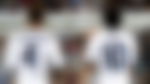 Their "love" has been all over the internet, and all one needs to do is look at their Twitter pages to realize how close they are to each other.
Ramos was very sad to see Ozil go to play for the Gunners in the Premier League, but he figured it would be for his best interest. He had planned to dedicate his first goal for the German but then he wasn't able to score on that day. Yet, he hid Ozil's no. 10 shirt beneath his own (at least he tried to) after he came down at half time.
All this after having no common language between them.

1. Marco Reus and Mario Gotze
The typical  BFF Selfie
The starlet duo. The lovebirds. The diamonds who came through. While Gotze had been playing for the Black and Yellow since he was young, Reus joined him later from Borussia Monchengladbach.
Over time,  they grew closer and closer. This didn't escape the eyes of the media who saw them being featured regularly together outside of the grounds too. They formed a deadly duo, and along with Lewandowski were the reckoning force in all of Europe.
But Bayern Munich had to be the villain in the story. Reus had denied his move to the German giants after they had approached him first because he was at the top of his game.
A year later, Gotze signed for the club from Munich, leaving Reus disappointed. He was quoted saying, before the CL final: "If I would have no limits and could spend as much money for a player as I want, I would bring Mario back."
ADVERTISEMENT
Article continues below this ad
You can sense the hurt beneath those words, even if you can't see the pain. But he refuses to break the friendship over just a tiny matter of his best friend being transferred over to their rivals.
Gotze was seen waving his friend's shirt after Germany won the FIFA World Cup in 2014. Some bonds never die.
ADVERTISEMENT
Article continues below this ad
There are some who just missed out, although it was a difficult decision on where to put them in.
David Luiz and Thiago Silva
Frank Lampard and John Terry
Thierry Henry and Robert Pires
Cristiano Ronaldo and Marcelo
Gareth Bale and Luca Modric