Top 10 Innings by VVS Laxman
Published 10/31/2016, 3:06 PM EDT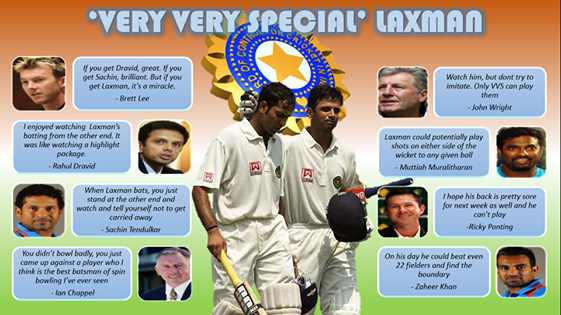 ---
---
With his magical wrists, VVS Laxman was easily one of the 'very very special' batsmen of his time. He was someone who mastered the art of batting with the tail. On his 42nd birthday, we bring you his top 10 innings.
ADVERTISEMENT
Article continues below this ad
1. 281 v Australia, Eden Gardens, Kolkata, 2001:
"That innings had a big impact on Indian cricket. It had given us a huge sense of relief and made us have belief in ourselves that we're not behind… Since then, we never looked back as Indian cricket kept improving." Said Sourav Ganguly about his innings in Kolkata.
ADVERTISEMENT
Article continues below this ad
India after being asked to follow on by Steve Waugh had a first innings deficit of 274 runs. Laxman promoted to No.3 played the best innings of his career and with the help of Dravid, Harbhajan and Tendulkar, an unlikely win was scripted by India. This innings was against a team which had won 16 consecutive test matches and were known as the invincible. The scenes at Eden Gardens when India won that day are still fresh in everyone's minds.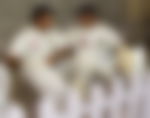 2. 73 not out v Australia, PCA Stadium, Mohali, 2010:
One of the most exciting test matches played between India and Australia, this match had everything. Chasing 216 on the final day, Laxman came out to bat when Zaheer Khan (Nightwatchman) was dismissed. India were soon reduced to 124/8 and the trio of Doug Bollinger, Mitchell Johnson and Ben Hilfenhaus were using reverse swing to good effect. Laxman battling back spasms, having Suresh Raina as runner and battling with tail(Ishant Sharma and Ojha), took India to a 1-wicket victory over Australia.
The match witnessed a rare occasion when he lost his cool and shouted at Ojha for lacklustre running.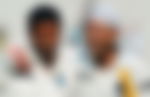 3. 103 not out v Sri Lanka, P Sara Oval, Colombo, 2010:
1-0 down in the series, India were chasing 257 for victory on a spinning track. The Sri Lankan attack consisted of Suraj Randiv, Ajantha Mendis and Lasith Malinga. India started day 3 at 53/3 and were soon 62/4 when nightwatchman Ishant Sharma was dismissed. Laxman along with Tendulkar stitched a century stand. While Sachin was dismissed, Laxman scored a fluent century fighting a back injury and steered India towards victory. Randiv's extra bounce was neutralised with a quick adaptation to varying lengths and the use of soft hands. Mendis' googlies were read early, and Malinga's slightly wayward line was dominated with flicks, glances and pulls, along with a safe negotiation of his yorkers.
4. 96 v South Africa, Kingsmead, Durban, 2010:
Arguably the best knock he played against the South Africans. India lost by an innings and 25 runs at Centurion and Kingsmead offered another green track. Laxman scored 38 and 96 in the match where no other batsmen scored more than 37 in an innings. The knock was against the likes of Dale Steyn, Morne Morkel, Lonwabo Tsotsobe and Jack Kallis. Laxman stitched a 70 run partnership with Zaheer Khan for the 8 wicket which turned out to be very crucial in the context of the match. India went on to win by 87 runs and leveled the series.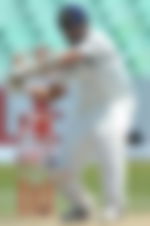 5. 167 v Australia, SCG, Sydney, 2000:
This was Laxman's maiden hundred. The innings was a statement of his class and temperament. India had already lost the first two tests at Adelaide and Melbourne and were looking at a whitewash after a 402 run deficit in the first innings. Laxman, asked to open the batting, carted Glenn McGrath, Damien Fleming and the then rookie fast bowling sensation Brett Lee. A strike rate of 84 in a 150-plus knock was unheard of in those days. When all the Indian batsmen were falling like bowling pins, his batting was on a totally different level.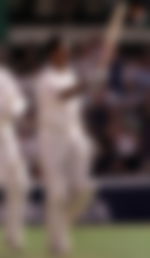 6. 148 v Australia, Adelaide Oval, Adelaide, 2003:
The match is often remembered for Rahul Dravid's 233 and 72 not out in the second innings, and then Agarkar's 6-42 in the second innings, but no one can ignore Laxman's 148 in the first innings. Laxman came out to bat at 85/4 in reply to Australia's 556. The Kolkata knock was an exhibition on how to play on turning tracks, his 209-ball hundred was a lesson on how to caress the ball through the offside. The Aussies targeted Laxman outside offstump but the languid strokeplayer had an answer on each occasion; of his 18 boundaries, 13 were placed through the offside.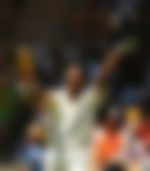 7. 178 v Australia, SCG, Sydney, 2003/04:
It was Australia and it was Sydney again. Only this time Sachin was the real star with his 241 not out. Going into the 4 test at Sydney, the series were level at one all and the Aussies wanted to give Steve Waugh a fitting farewell by winning the match and the series. Batting first India scored 705/7 which was India's highest at that point of time. Batting with Tendulkar and stitching a 300 run partnership gave India a great chance to win the series. Alas, defensive captaincy, poor bowling and Steve Waugh's 80 denied India the victory on the last day. Laxman's innings was simply magical. He caressed balls that pitched outside off through the leg side with the most delicate flicks of the wrist; he cut and drove on both front and back foot with flowing grace; and yet, there was no risk in his batting.
Heading into the 4 test, India were already 2-0 down in the test series. Wankhede stadium offered a dustbowl which Ricky Ponting termed as 'nowhere near test standard'. The match ended on Day 3 and that too when only 11 overs were bowled on Day 1. Australia were dismissed for 93 chasing 107 runs, Micheal Clarke took 6-9 and 20 wickets fell in a single day. On such a wicket, VVS Laxman 69 in the second innings was the highest in the whole match. His innings and Tendulkar's 55 in the second innings, made all the difference.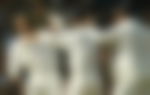 9. 154 not out v West Indies, Eden Gardens, Kolkata, 2002:
ADVERTISEMENT
Article continues below this ad
Our Very  Special player was back at his favorite ground, and this time he smashed another opposition. Laxman came out to bat with nearly five sessions to playwhen India are four wickets down in the second innings and still trailing by 53 runs against West Indies. He puts on a combative 214 with Sachin Tendulkar to take India to safety. While Sachin was dismissed at 176, Laxman stayed not out at 154.
This match is very emotionally connected to Indian fans. The series had already been scarred by the 2 test at Sydney following the Monkey gate incident between Harbhajan & Andrew Symonds and the poor umpiring by Steve Bucknor and Mark Benson. Australia had already won 16 consecutive test matches and Ricky Ponting said for the record 17 win if he had to chose a venue, it had to be the WACA. The test match is also remembered for a rookie like Ishant Sharma tormenting one of the best no. 3 batsmen, Ricky Ponting.
ADVERTISEMENT
Article continues below this ad
Coming back to Laxman, he played a brilliant innings of 79 and batted with the tail again to take the target beyond 400. The scenes of Harbhajan running on to the ground with the tricolor fills every Indian heart with pride.