Top 10 NBA Games to Re-Watch From 2019-2020 Season
Published 03/19/2020, 12:28 PM EDT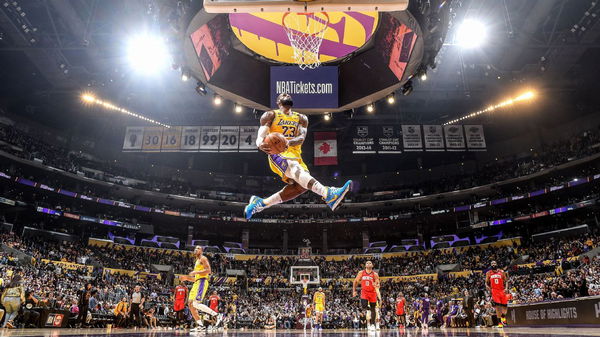 ---
---
Finally, some good news for NBA fans. NBA has made its League Pass service free to all fans until April 22. The free pass service will allow fans to watch games from this season and view footage from the NBA's expansive archive of classic games. So, it's finally time to Binge-watch on NBA past matches amid this long hiatus.
ADVERTISEMENT
Article continues below this ad
You might already have made your mind to which games to watch from classic archives, but just let us allow you to make your mind on must-watch games of this NBA season. For starters, this season was a whole ride from Bucks domination to LeBron doing 'LeBron' things in 17th year to rookies like Ja and Zion making their impactful debut. Considering all, here are Top 10 games necessary to re-watch from the 2019-2020 season during the Coronavirus pandemic.
ADVERTISEMENT
Article continues below this ad
New Orleans Pelicans vs Toronto Raptors(122-130)
This season opener is a must-watch. New Orleans showed in this match that what we could expect from this team in the following season. They gave defending champions the run for money and all this without their No 1 pick, Zion Williamson. Talking about the Raptors, this game felt like they actually never left. Defending champions, after running into overtime, kept their cool heads and got the job done for Nick Nurse.
Fred VanVleet scored a career-high 34 points in this opening game, Pascal Siakam ended with 34 points and 18 rebounds and Kyle Lowry with 22 points for Raptors. Brandon Ingram dropped 22 points, and Josh Hart had 15 points and 10 rebounds for New Orleans. JJ Reddick contributed with 14 points for the visiting team in the match.
Here are the highlights from the match:
http://https://www.youtube.com/watch?v=9JTuHqFPxfM&feature=onebox
LA Lakers vs LA Clippers
The match is pure athleticism, with a robust defense and smart offense from both teams during all the 4 quarters. Not to forget, most probably this matchup could be the potential Western Conference Final according to ranking on the table and all odds considered.
In the first Battle of the LA this season, Kawhi Leonard showed everyone how he should not be taken lightly under any circumstances. 2 times MVP scored 30 points, Lou Williams added 21 points and Montrezl Harrell had 17 for Clippers in the opener. 'Newcomer' Danny Green was the surprise top scorer for Lakers with 28 points who outscored both Anthony Davis, 25 points and LeBron James, 18 points effort.
Here are the highlights:
http://https://www.youtube.com/watch?v=3XdUQSDLyVM&feature=onebox
In the second 'Battle of LA', the LA Clippers were blown away with the appearance of LeBron James. He was completely in a zone that day with his 28 points, seven rebounds and nine assists, Anthony Davis scored 30 and Bradley added 24 points for Lakers. Paul George scored 31 points, Kawhi Leonard added 27 and Harrell had 20 for the Clippers.
http://https://www.youtube.com/watch?v=3XdUQSDLyVM&feature=onebox
LA Lakers vs Dallas Mavericks(119-110,1st November)
This was another OT thriller. This match has it all. Great matchup, crazy dunks, buzzer-beater 3 pointer, and a thrilling finish. James had a season-high 39 points with 16 assists and 10 rebounds, while Luka Doncic finished with 31 points, a career-high 15 assists in Dallas. If you want to experience an extreme adrenaline rush in your veins, then you just can't miss this match.
Lookout for LeBron James dunk in 4th Quarter and Danny Green heroics in the same quarter (Hint: Buzzer beater)
http://https://www.youtube.com/watch?v=wXIzVE9At8Y&feature=onebox
Chicago Bulls vs Charlotte Hornets(116-115, 23rd November 2019)
These are the matches that every NBA fan lives for. Nail-biting finish, 'dog eat dog' situation during the whole match, and many nerve-wracking plays. Zach LaVine came big for the Bulls who scored career-high 49 points and a splendorous 3 pointer with 0.8 seconds left on the clock. Not to forget, this match also comprised of 13- 3 pointers from Zach. Notably, only 'Splash Brothers (Klay Thompson & Stephen Curry) have scored 13 or more 3s in the NBA. At the end of the match, you got to feel for Hornets, though.
So if you are a fan of those 'beyond the parameter' shots, then this game is a must go.
http://https://www.youtube.com/watch?v=hwIBWVUqp2Y&feature=onebox
Boston Celtics vs Houston Rockets(110-111, 29th February 2020)
Another thriller! Another OT! Russell Westbrook came big for Rockets in this overtime thriller. He scored 41 on that night. Jason added 32 points and 13 rebounds for Boston.  In the OT Rockets edged Celtics by a point.
http://https://www.youtube.com/watch?v=y3IS1JtHNVA&feature=onebox
Boston Celtics vs LA Clippers(104-107, 20th November 2019)
Another OT and another loss for Celtics. The unlikely hero of the match was Patrick Beverely for Clippers, who scored 14 points and rebounded career-high 16 times.
http://https://www.youtube.com/watch?v=aqLHF46G7OA&feature=onebox
Philadelphia 76ers vs Portland Trail Blazers (129-128, 2nd November)
A proper high scoring match, with a nail-biting finish. Who doesn't love that, right? Well, the answer is Portland Trail Blazers as they were on the losing side.
Another must-watch for adrenaline junkies which also include -wait for it- two glorious late 3 pointers:
http://https://www.youtube.com/watch?v=1k-tHJ_pGTY
Toronto Raptors vs Dallas Mavericks(110-107, 22nd December 2019)
Who doesn't love come from behind wins? Well, this is one of those matches. To put things in perspective, it is the biggest comeback by an NBA team in a decade. This comeback by Raptors was also the biggest in franchise history.  So sit back and enjoy it.
http://https://www.youtube.com/watch?v=WG3yBcUgI4g&feature=onebox
Boston Celtics vs LA Lakers(114-112, 23rd February 2020)
A classic rivalry with new faces. LeBron James again proved his importance for the team. James scored 29 points and gain the bragging rights for Lakers with his jumper for 2 points in the last 30 seconds of the match.
ADVERTISEMENT
Article continues below this ad
http://https://www.youtube.com/watch?v=k4E5xpHbMmA&feature=onebox
ADVERTISEMENT
Article continues below this ad
If you have watched all these 10 matches, then watch the Milwaukee Bucks and LA Lakers again, to grasp what we could expect from the Finals.  Till then just get your hype up for the NBA finals and pray for the world to get all right so that NBA might resume soon.