Top 10 Players in Lower Ranked Teams
Published 10/07/2015, 2:16 PM EDT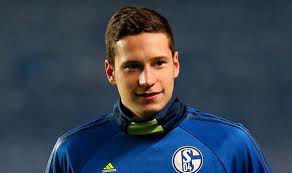 ---
---
The best players need not always belong to the traditional big clubs in world football. Herein we take a look at some of the up-and-coming potential stars of the future, and some established players loyal to the clubs that brought them into prominence, currently plying their trade in relatively lower-ranked teams:
ADVERTISEMENT
Article continues below this ad
The Scouser has given pundits a lot to think about, with inevitable comparisons to Wayne Rooney galore. In an advanced midfield role, his quick, short-backlift passes are liable to thread the eye of a needle, and skilful, marauding runs have made him a more versatile player, usable on the wing if needed. The defensive side of his game still needs some work, though, but the Everton lad looks to be a bright prospect, hopefully for the Toffees' long-term future.
ADVERTISEMENT
Article continues below this ad
Another attacking midfielder, the young German had long been one of the most consistent performers for Schalke 04 (a feat within itself, considering he's only still 22). Now, with a big-money move to VFL Wolfsburg in the summer behind him, Draxler will look forward to being the replacement for the talismanic Kevin de Bruyne at his new club, chipping in with assists both from central and wide positions.
Football players are often at a peak physical condition for humans, but then there are those amongst them who seemingly run for fun. Built from the same mould as James Milner or Arturo Vidal, Leicester City's "wide striker" has had a fairy-tale career starting in non-league teams. Now one of the first names on the team sheet for Leicester and with international caps in his bag to boot, Vardy has shown his worth with his sheer pace, stamina, and strong finishing skills.
The Athletic Bilbao youngster has long caught the international eye, with flattering rumours of big clubs wanting to move in for him prevalent in the past few transfer windows. Laporte has shown no little composure both on the ball and off it, and an excellent reading of the game, leading to a reputation of being one of the cleanest defenders in La Liga and certainly, a future with a top club in imminence.
To say that the Frenchman has made a running start to his first season in England would be somewhat of an understatement; his immaculate touch, superb vision and excellent conversion rate in terms of assists, key passes and finishes have made us wonder why he was a relatively unknown entity all this while. For West Ham and Slaven Bilic, he is fast becoming the glue holding together the midfield as it makes the transition from defence to attack – something done with alarming efficiency this season. Just ask Manchester City, Arsenal or Liverpool.
No team is complete without a competent keeper, and so too for this list. The long-time servant of Marseille and its current captain has been an inspiration to his team for the better part of a decade What makes this feat even more impressive is that this has been done from between the sticks. His commanding presence in goal added to some of the picture-perfect saves made has made him a stalwart for the French national side at times, with the veteran a more than able replacement for Hugo Lloris.
Another talismanic captain, Udinese's star striker has made an indelible impact on both the club and Italian international football, with over 300 goals in all competitions, making him one of the most prolific Italians in the history of the game. At 37, most would argue he is well past his prime, but the veteran has seen some of his best years in front of goal well past the 'sell-by' date most would put on a striker. However, with his keen instincts in the 18-yard box and experience, in addition to his commendable fitness, it comes as little surprise.
Now reunited with his old teammates at David Moyes' Real Sociedad after an ill-fated, and at times ill-tempered spell at Real Madrid, Illaramendi will be looking to recreate the form that made him one of the most sought-after young players a few seasons ago. In the heart of midfield, Illaramendi is unplayable on his day, with crucial tackles and equally important organisation of the back line behind him the hallmarks of his play.
ADVERTISEMENT
Article continues below this ad
Sometimes overshadowed by big brother Sven at Dortmund, Lars nevertheless made a name for himself in the past few seasons – most notable securing a spot for himself in the German squad for the 2014 World Cup, only to be ruled out with injuries shortly beforehand. The midfielder has a variety of skills in his kitty: he can make the grittiest of tackles and execute a sweeping cross-field pass reminiscent of Steven Gerrard in the same game, making him indispensable for Bayer Leverkusen at present.
ADVERTISEMENT
Article continues below this ad
Although highly touted in his early days, the centre-back currently on loan at Southampton from QPR seems worryingly like one of those that got away, at least as far as Roy Hodgson and his English side are concerned. On his day, though, Caulker is an impenetrable and unflappable presence in any centre-half pairing. His physical prowess, however, needs to be combined with some much-needed tactical awareness and experience to really transform him into what his potential has promised thus far.